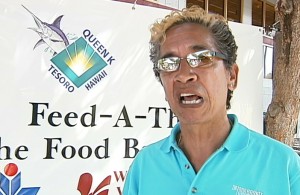 10th year for radio effort on behalf of Hawaii Food Basket
Video by David Corrigan, Voice of Stephanie Salazar
WAIKOLOA, Hawaii: Long time radio personality Tommy "Kahikina" Ching has again joined forces with KTA stores – and various other sponsors – for ten days in a row, ten hours a day en route to raising money for the Food Basket.
Kahikina's annual Feed-A-Thon was set up at the Waikoloa Village KTA, for the third day of the fundraiser.
According to Kahikina, the drive comes at a time when the donations are greatly needed.
Kahikina will be in Hilo on Tuesday and Wednesday, and back in Kona at the Keauhou KTA on Thursday and Friday, where the Feed A Thon will conclude.
The Food Basket is an island wide, supplemental food network that collects and distributes nutritious, high quality food to low income households, the working poor, the disabled, the ill, senior citizens, children's programs and other charitable organizations that serve this population. Supplemental food is provided regardless of religious beliefs, gender or ethnicity.