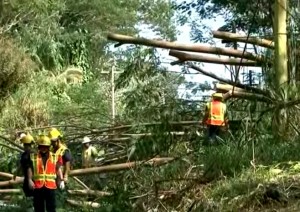 Winds whip through Pahoa on Tuesday
Video by Daryl Lee
PAHOA, Hawaii: Meanwhile, winds whipped through Puna on Tuesday, knocking down trees, taking out utility lines, and blowing over anything that wasn't nailed down.
Police closed down Route 132 between Lava Tree Park and Kapoho, after multiple trees and power lines falling across roadway…. putting visitors like Jordan Myer from California in a tight spot…
The Makuu Farmers Market took a hit, as well.
This video shot by Daryl Lee shows crews working hard to clear the road.