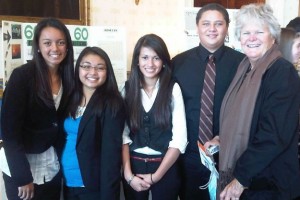 Four Hawaii kids' battery recycling effort leads to White House adventure
Video courtesy White House, photos by Siemens "We Can Change the World Challenge" on Facebook
WASHINGTON, D.C. : A great opportunity for some kids from North Kohala who visited Washington D.C. recently.
Four Kohala Middle School students had the honor of presenting their exhibit called "Improving the Environment One Community at a Time" for President Barack Obama and officials during Tuesday's White House Science Fair.
Isabel Steinhoff, Rico Bowman, Genevieve Boyle and Mina Apostadiro took first place in their division of the 2010-2011 Siemens "We Can Change the World" Challenge.
Their project was a household battery recycling effort to collect 6,000 batteries in 60 days. The team's mentor is Lani Bowman, a former part-time teacher at Kohala Middle School.
The team, named "6000 'n 60′", campaigned to improve their community's use and disposal of batteries by giving people information on the environmental harm of improperly disposed batteries as well as tips for recycling.
The students' success led them to this moment with the president, as he checked out the research and inventions from more than 100 students representing 30 student teams.
Later, the president addressed the students.
The President announced several new initiatives to increase the number of students studying STEM subjects (which stands for Science, Technology. Engineering and Math), and to prepare the 100,000 math and science teachers needed to teach the country's future engineers, inventors, and innovators, including:
1. A priority will be placed on undergraduate STEM education reform in the President's upcoming budget, including a $100 million investment by the National Science Foundation to improve undergraduate STEM education practices.
2. The president also plans a new K-16 education initiative jointly administered by Department of Education and the National Science Foundation to improve math education.
3. Commitments from private sector groups and coalitions to do more to get students excited about STEM-related
4. New policies to recruit, support, retain and reward excellent STEM teachers, along with an $80 million investment in the President's upcoming budget to help prepare effective STEM teachers.
5. And, a new $22 million investment from the philanthropic and private sector to complement the Administration's teacher preparation efforts.