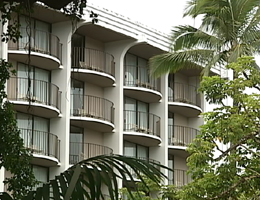 DLNR says they would prefer to let Public Land Development Corp. do the job
HILO, Hawaii:  A legislative effort to speed up the effort to improve Banyan Drive – Hilo's primary tourist area – by creating a development district appears to have stalled.
HB was introduced by Hilo Representative Jerry Chand and it would have created the "East Hawaii Community Development District"
The district would have given local stakeholders greater control of the leased hotels and businesses that operate on the state land.
Ever since the return of direct flights to Hilo, lawmaker have scrambled to figure out ways to improve the visitor experience along Banyan Drive.
Last session, Chang was able to get legislation passed that extended the state leases held by the hotels, as long as they went ahead with substantial improvements.
The East Hawaii Community Development District would have been another avenue to encourage a better Banyan Drive. It would have created a board of 11 voting members, and that board would have broad powers in the management and planning of the Hilo hotel area.
However, the Department of land and Natural Resources urged the House Committee on Water, Land, & Ocean Resources
to ill the bill, because they preferred Banyan Drive be developed using the Public Land Development Corporation – which was created during this last legislative session.
The Public Land Development Corporation seeks to develop public-private partnerships to fund and refurbish Hawaii's 1.3 million acres of public lands.
DLNR also stated in its testimony that it relies on the leases to fulfill its fiduciary duties.
OHA also opposed the bill, saying that the development district would not be bound by Hawaii Revised Statutes section 171-64.7 which was enacted as a result of the state and OHA's settlement in the sale of ceded lands case.
UPDATE: In a media release issued on Thursday, Rep. Jerry Chang shared his thoughts on the deferred East Hawaii Community Development District Bill. He said:
"There is no doubt that the Banyan Drive and Kanoelehua industrial area in Hilo are in dire need of renewal, renovation, and improvement. However, House Bill 2366 is not the best vehicle to address the problem. The authority to construct, improve, renovate, and revitalize areas within Hawaii County are already authorized under State and County statutes."

"The attention generated through the introduction of this bill sends a strong signal to DLNR that now is the time to take action and to revitalize this area that is so critical to the Hilo economy".