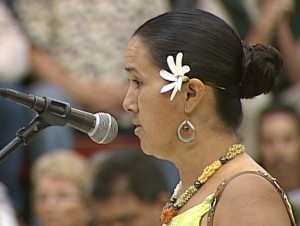 Ho'okako'o board gets an earful from the community for their suspected role in the "resignation"
Video by David Corrigan, story by Sherry Bracken
WAIMEA, Hawaii: A standing room only crowd of more than 350 people was at Thelma Parker Gym in Waimea Thursday night for a community meeting to discuss the abrupt departure of Waimea Middle School Principal John Colson. Board President Keith Vieira introduced the meeting, and apologized for how the board has handled the situation but he reinforced that Principal Colson resigned.
Five members of the 9 member board, the Oahu-based Ho'okako'o Corporation, were at the meeting. Vieira also introduced the incoming interim principal, Lydia Trinidad, who will move from her job as principal of Kuala pu'u Elementary School on Moloka'i.
Kahu Billy Mitchell laid into the members of the board, saying what most others said—they did not believe board chair Vieira when he said John Colson resigned. Kahu Mitchell said Colson would never leave the Waimea Middle School children abruptly in the middle of the year. Mitchell spoke to Colson's integrity and dedication. He invoked the memory of Princess Bernice Pauahi, a known education advocate, in imploring the board members to have the courage to reconsider their decision and bring Colson back.
Several community members, including parents Melissa Lindsey and Randy Horne, challenged Board Chair Vieira's statement they were under a gag order not to reveal the reason for Colson's abrupt departure.   Lindsey chastised the board for making the change two weeks before the critical state assessment tests on which the school and the students will be judged.
Both State Representative Cindy Evans and State Senator Malama Solomon, in the middle of the state's legislative session, flew in from Oahu to testify. Solomon said it's always possible to reconsider a decision, and asked the board to right the wrong and bring Colson back … for the good of the children.
The bottom line of much of the testimony was a request to the board to think about the kids, and the impact of their actions on the these kids and their future learning. And the other bottom line: the community wants to have principal John Colson back on the job at Waimea Middle School. But at this point the ball is still in the Ho'okako'o Board's court.