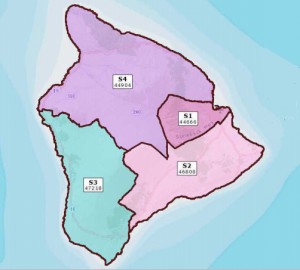 Few testify compared to the contentious hearing held in September
Video by David Corrigan, Voice of Stephanie Salazar
HILO, Hawaii: The Hawaii State Reapportionment Commission held a public hearing in Hilo on Tuesday, in order to collect comments on the newly-created political maps.
The Big Island will be gaining a forth senate seat, after the state Supreme Court threw out the original maps created by the commission and ordered that new maps be drawn up using the proper resident population numbers.
Things were a lot different when the commission held a public hearing in the same location last year. The room was packed, and an angry crowd lambasted the commissioners for their decision to count non-residents, effectively preventing the Big Island from gaining another senate seat.
The supreme court agreed with the plaintiffs… and so the commission had to scramble to redo the maps.
On Tuesday evening, the crowd was a lot thinner compared to the crowd at last year's meeting, and the commission presented a different spin on the census numbers.
For the most part, the public was happy with the proposed maps, and although most were happy to see a forth senate seat for the Big Island, some winced at the huge new district that stretches from South Hilo to North Kona.
The lines are now drawn so that Hilo gets its own senator; Puna, Volcano and Pahala becomes Senate District 2; Ka'u and South Kona north to Kaiminani Drive in North Kona is District 3; and the new forth senate district will be comprised of monster northern chunk of the island.
The number of house seats will remain the same, and the configuration of the districts that is being proposed will create a district 1 that will put current representatives Mark Nakashima and Jerry Chang against one another in the upcoming election.
There will also be a Puna makai and a Puna mauka district. The Puna mauka district will extend all the way to Pahala.
The new district 5 covers the remainder of Ka'u as well as South Kona up to Keauhou.
District 6 will be Kailua Village and North Kona up to Old Kona Village Road. The new district 7 encompasses the Kohala Coast, North Kohala and Waimea.
Public comment will be accepted at two meetings next week before the commission is expected to approve the plan on Feb. 23.