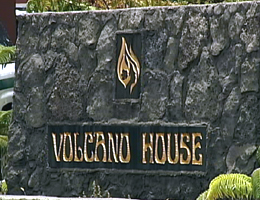 The Volcano Project awaits decision on the iconic concession
Video by David Corrigan, Voice of Stephanie Salazar
VOLCANO VILLAGE, Hawaii: This Sunday  at the Cooper Center Farmer's Market, supporters of the Volcano Project marked 3 years of a volunteer effort to win the Volcano House concession contract.
David Howard Donald & Anne Lee are still waiting to hear about the results of the latest round of bids on the National Park Service operation, located within the Hawaii Volcanoes National Park.
The only locally based bidders, they explained to folks stopping by their table about what they say makes their propsal so unique.
The Volcano House has always been considered a prized concession. Offering accomodations and food right within the borders of the Hawaii Volcanoes National Park, how could an operator go wrong?
Also, the structure itself is full of history. At an "After Dark in The Park" discussion in 2011, the history of the Volcano House was summarized at the Kilauea Visitors Center Auditorium.
William R. Chapman, the Director of UH-Manoa's Graduate Certificate Program in Historic Preservation, gave the talk.
Of course, the conversation eventually turned to the current state of the Volcano House.
That's where David and Anne come in… they believe their Volcano Project proposal to be the best for the park, and the local economy.
But its been a long three years. The National Park Service issued the Prospectus for the Volcano House operation on December 10, 2009, requesting proposals for visitor services that included: overnight accommodations, food, beverage, retail, campground and related services. Due to several amendments, the closing date was extended to September 1, 2010.
After a review, officials decided to re-solicit the concession prospectus because the proposals received did not meet critical requirements for the concession contract. All proposals received in response to this solicitation were considered non-responsive and/or not qualified.
David and Anne have been told that the Volcano Project proposal has been reviewed, but no word yet.
In the meantime, you will probably see these two at various community functions and around town, especially bright and early on Sunday's here at the Volcano Farmer's Market, where the Volcano Project will continue to host a table, at least until the decision makers make their decision.