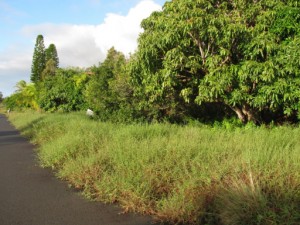 Area has been used in the past, but requires Special Permit
ROYAL GARDENS, Hawaii: The draft environmental assessment for the helicopter landing at Jack Thompson's property in the otherwise abandoned and lava ravaged Royal Gardens subdivision is now online.
Although helicopters have landed there in the past, the Hawaii County Planning Department is now requiring a Special Permit for the activity.
From the Project Location and Description section of the draft EA:
Paradise Helicopters is seeking permission through a Special Permit to develop and utilize a 15 by 15-foot standalone platform trailer for helicopter landing placed within a 100 by 100-foot clearing on a 1.003-acre property (TMK: (3) 1-1-114:022) owned by Jack Thompson in the Royal Gardens Subdivision of Puna (see Figures 1-4).

A Helicopter Landing Area is a permitted use for the property, which has agricultural County zoning and is within the State Land Use Agricultural District, subject to issuance of a Special Permit by the County of Hawai'i. The Hawai'i County Planning Department has determined that an EA is necessary because any helicopter that lands there is likely to fly over the Conservation District and there is at least some potential to affect it (see Figure 1b).

The subdivision has been inundated by lava flows from Kilauea and is, for the most part, uninhabited. Mr. Thompson's home, which has been featured in numerous print and television reports, is the only occupied home within two miles in any direction. All roads leading to the subdivision have been buried by lava and Mr. Thompson is obliged to walk three miles to access his home. Paradise Helicopters used the subject property as a landing area in the past and is unaware of any environmental problems on the site. The use has been discontinued until an EA is completed and the Special Permit is considered by the Hawai'i County Windward Planning Commission.

Paradise Helicopters, which has 35 employees on the Big Island, would like to resume landings on the subject property as an additional feature of already existing Kilauea Volcano helicopter tours that already fly over this property. Landings would occur daily at the site between 9:00 am and 5:00 pm, with no night flights. They anticipate up to four flights per day with four to six passengers and one pilot on each flight. The visitors would be on the ground for about thirty minutes each trip. Mr. Thompson's house is located in a forested kipuka surrounded by lava, and the stop would provide visitors an up-close look at the stark contrast of the lava inundation in an area of tropical beauty with scenic vistas of the ocean. It would also provide Mr. Thompson with a beneficial use for his landscaped property that helps compensate for the lack of road access. Mr. Thompson has affirmed that the site will not be used as a bed and breakfast operation.