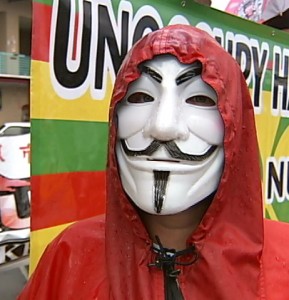 Anti-geothermal an element to the larger Occupy corporation demonstration
Video by David Corrigan, voice of Stephanie Salazar
HILO, Hawaii: The Pele Defense Fund has made a return to oppose the latest push for geothermal power on Hawaii Island.
Members of the organization were present outside the HELCO building in Downtown Hilo on Wednesday, in the pouring rain, protesting the company along with participants in the Occupy Hilo movement. Those representing the Pele Defense Fund also waved signs against the use of geothermal as an energy resource.
The organization led the opposition to geothermal in the 1980s and 1990s. However, the group has been quiet lately, as the most recent push for geothermal power has been gaining momentum on Hawaii Island. State documents have even listed the former 501(c)(3) entity as defunct.
Meanwhile, the Geothermal Working Group, chaired by Hawaiians Richard Ha and Wallace Ishibashi, recently submitted its final report on the resource to the state legislature. The report recommended the expanded use geothermal in order to power all of Hawaii Island, and also the much of the state.
Now, the Pele Defense Fund appears to have suddenly become re-energized.
But with so many former supporters of the Pele Defense Fund now openly advocating for geothermal energy, will the organization be what it once was?
The message from these demonstrators outside HELCO on Wednesday was far from unified. Anti-geothermal signs in one area… but PRO-geothermal signs right beside. The over-arching theme seemed to be in protest of the giant Hawaii Electric Light Company, a part of the mammoth Hawaiian Electric Industries, Inc.
These folks wearing masks said it was a part of a larger, coordinated Occupy demonstration around the country, against corporations.
The Pele Defense Fund concerns are more locally focused.
Perhaps thats why the group is not only taking on geothermal. It has also provided some guidance to local hunters recently, as they ramp up for a battle with the Department of Land and Natural resources over the fencing of the Puu Makaala Natural Area Reserve.