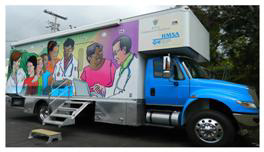 Mobile medical van revving up to grow rural healthcare
Media release from Kona Community Hospital & HSMA
KEALAKEKUA, Hawaii: South Kona communities on the Big Island that have had limited access to health care will soon benefit from a mobile medical van that will be blessed Saturday, March 10, in a noontime ceremony at Kona Community Hospital. The 32½ foot van is the culmination of nearly 10 years of research, work, and cooperation by Representative Robert Herkes and legislature, Kona Community Hospital, and Hawai'i Medical Service Association (HMSA).
Providing health care to Hawaii Island residents, particularly school-aged children in rural areas, is a persistent challenge because of the island's size and its low population density. The van, named Ka'a Ho'ōla – a vehicle of revitalization and well-being, is intended to remedy that problem. Its theme, "Growing Rural Healthcare," focuses on providing much-needed medical services in these regions.
"This mobile medical van will greatly improve access to medical care for people in rural areas of the Big Island ," said Representative Herkes. "When needed, the mobile medical van will be able to reach people in remote areas, provide care, and indeed, save lives."
Program Manager Debra A. Barra, M.S.W., says, "We are very excited about expanding our services to include mobile health care outreach in remote rural areas. We will begin our efforts with the underserved children of South Kona by working with the public schools. We hope to significantly increase the well-being and disease prevention in these communities."
The mobile medical facility has a spacious exam room, both indoor and outdoor reception areas, a lab, and refrigerated storage space. Not only will students be able to get vaccinations, immunizations, and school physicals, staff members will also be able to offer screenings and health education. In addition, wireless tele-health capabilities will enable children to get the special attention from specialists when needed.
Ka'a Ho'ōla was built using $350,000 in state funds approved by the 2009 Legislature thanks to efforts championed by Representative Herkes. Kona Community Hospital has agreed to use their medical expertise and staff to coordinate these services. It will be owned and operated by them and funded for the first two years by HMSA. During that time, Kona Community Hospital will work with the Department of Health and the Department of Education to serve public schools in the area of South Kona . The ultimate goal is for the van to achieve a sustainability model within two years.
"HMSA is committed to providing access to quality, affordable care and we're confident that this effort, coupled with our online care program, will help," says Jennifer Diesman, Vice President of Government Relations for HMSA. "Thanks to the efforts of Representative Herkes and Kona Community Hospital , we will be able to extend our reach to communities in the rural parts of Kona who need it most."
The entire community is invited to the blessing on Saturday, March 10 from Noon to 2 p.m. The event will feature opening remarks by Representative Herkes and Program Manager Barra, a blessing performed by Danny Akaka Jr., live music, food by Island Lava Java, tours and more. Please RSVP to 322-6960 or ebryant@hhsc.org.
About Kona Community Hospital
Founded in 1914, Kona Community Hospital is a 94-bed full-service hospital with 24-hour emergency services that supports the west region of the island of Hawaii . It is a member of the Hawaii Health Systems Corporation, a special agency of the state of Hawaii established in 1996. It is fully accredited by the Joint Commission on Accreditation of Healthcare Organizations. Kona Community Hospital is dedicated to providing and enhancing accessible comprehensive health care services to the West Hawaii community.
About HMSA
HMSA is a nonprofit, mutual benefit association founded in Hawaii in 1938. It is governed by a community board of directors that includes representatives from health care, business, labor, government, education, clergy, and the community at large. HMSA is an independent licensee of the Blue Cross and Blue Shield Association. For more information, visit hmsa.com.