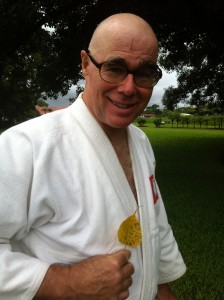 Specialty foods, live music by Unzan Pfennig
Media release by Peace Committee
HILO, Hawaii: Every year, the Buddhist temples from Honpa Hongwanji and Higashi Hongwanji come together to share their special treasures with the general public. This year, the "Treasures of Hongwanji" takes place Saturday, March 3, 2012, from 8 a.m. to 1 p.m. at Sangha Hall in Hilo, 424 Kilauea Ave., on the grounds of Honpa Hongwanji Hilo Betsuin. Admission is free, and includes an intriguing collection of displays and sales of unique items and handcrafted foods, some of which are not easily available any other time of the year. The event also features the intricate and soulful music of guitar soloist, Unzan Pfennig (photo right).
A Zen priest and an Aikido instructor. Unzan performs at Miyo's Japanese Restaurant , Tues. Thurs. and Sat.5:30-8:30 p.m. In a recent story for Big Island Weekly, J Walk Smith described him as "a big guy who gracefully loops and layers melodies with a guitar and foot pedals. He has a unique take on difficult songs and is able to layer and montage recognizable and unrecognizable pieces into harmonious sound."
"World music is a strong influence," said Unzan, "So you will hear something inspired by Asian, African, Eastern European, Mainland US, Native American." Although he doesn't play Hawaiian music as such, he says, "My 'style' arose in me at the sound of the slack key masters, where they play something 'only' because it is beautiful… I never played this way until I came to Hawaii almost 10 years ago and started to play at Miyo's."
"I am really grateful to Miyo's but truly to Hawaii and Hawaiian Music," said Unzan. "I feel it is like moving to Nashville or the Mississippi Delta where everyone plays, and in my audience are great players any night of the week, so I try to always play in a respect toward my senior players."
Unzan performs at 10:30 am. Also appearing on the bill will be the Puna Taiko group.
In addition to musical food for the soul, delicious food for the body will also be available for purchase. Some of the items expected this year are: chicken sausage, chayote sambaizuke, milk bread, jams, yomogi dango, papaya namasu, Kona Coffee (hot brewed and bags), jellies, ampan, ti leaf dango, sekihan, barbecued ribs, mini spam musubi, smoked pork, and more! There will also be plants, vegetables, Cherry Blossoms and other flowers, crafts, informative displays, entertainment, kids' activities, and lucky number prizes. (Come early for the best selection.)