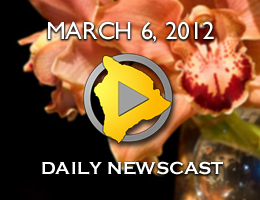 EDITOR'S NOTE: The Hawaii County Civil Defense message for this date has expired
Aired on Tuesday, March 6th, 2012
In this Big Island Video News daily newscast:
An island wide gambling ring is busted on Hawaii Island, we'll have the details…
Plus, the island's flower industry gears up for this year's Hawaii-themed Philadelphia Flower Show…
And, we begin our three part look at the budget battles over the last three years, and process that is sure to get political as election season looms.
A Hilo based talk radio station has apparently drawn the line over a recent comments made by a big name in talk radio.
New West Broadcasting announced today that it is discontinuing the Rush Limbaugh program on KPUA AM 670 effective immediately.
Limbaugh – a conservative talk radio icon and influential republican figure – has come under fire in recent days for calling a female law student a "slut" and a "prostitute," after the Georgetown University law student called for contraception to be covered by health insurance.
Chris Leonard, President and General Manager of New West issued a statement on Monday morning.
He said " The most recent incident has crossed a line of decency and a standard that we expect of programming on KPUA whether it is locally produced or a syndicated program like the Rush Limbaugh show. "
Leonard went on to say "While much of the national debate regarding this issue is now being framed in political terms, the decision for us is one of decency and responsibility. Regardless of one's political views on the issue being discussed, we feel the delivery was degrading and the continued comments over several days to be egregious. As a result, we are discontinuing the Rush Limbaugh program on KPUA effective immediately."
The City of Brotherly Love is feeling the Aloha this week, as the huge Philadelphia Flower Show features Hawaii as its theme. Sherry Bracken has the story…
SEE MORE:
HAMAKUA – Pepeekeo public access grant
The next Hamakua Community Development plan meeting will include a presentation on "Public Access with Kuleana," a project that will be applied in Pepe'ekeo.
People's Advocacy for Trails Hawaii – or PATH – is getting a $100,000 grant. The Kona based non-profit is one of five recipients selected to receive money from the Hawaii Community Foundation's Island Innovation Fund.
The project will create a community-managed public access model in two locations: Pepeekeo, and also Keauhuolu in North Kona.
Organizers say the project was inspired by the ongoing public access discussion during the Hamakua CDP process.
PATH Executive Director Laura Dierenfield will be at the CDP Steering Committee meeting on Tuesday, March 6 from 5 to 7:30 pm at the Laupahoehoe Library Humanities Room.
HILO – UH-Hilo names new Vice Chancellor
University of Hawaii at Hilo has announced the appointment of a new Vice Chancellor of Academic Affairs.
Dr. Matthew Platz, currently a Distinguished University Professor of Chemistry at Ohio State University and a Director of the Division of Chemistry at the National Science Foundation, will assume his new duties in January 2013 but will make several extended campus visits beforehand in order to familiarize himself with the University.
Dr. Platz already owns a home in Kona, and says he sees the Big Island and UH Hilo as major role players in meeting the challenges of sustainable food, water and energy.
KAILUA-KONA – Bodysurfer rescued at Laaloa
In Kona, bodysurfing at Laaloa Beach Park led to a possible spinal cord injury for an unfortunate waterman on Sunday.
Fire and rescue crews responded to an alarm shorty after noon on Sunday at the Kona beach that is a popular spot for body surfing and bodyboarding.
Crews arrived to find firefighters performing CPR on a man who was rescued from the water. With his neck and back secured, and the semi-conscious patient was transported to Kona Community Hospital where he is reportedly recovering from his injuries.
KA'U – A Hui Hou, Bolo
Well known composer and musician "Bolo", who sings and plays the `ukulele, slack key guitar, and "'uketar" – will perform at a free concert on Wednesday at Pahala Plantation House from 6:30 p.m. until pau.
According to organizers, the concert is being called "A Hui Hou Bolo" … thats because Bolo Mikiela Rodrigues is about to embark on what he calls his "next big adventure", when he moves to Salt Lake City and performs in the wstern region of the United States.
Bolo offers original songs, including one about Bull Kailiawa Coffee Farmer, another tune about the original Ka`u Coffee farm (now `Aikane Plantation) back in the 1800s and a composition he co-wrote about the misty mountain preserve called Kaiholena. Musician and dancer Sammi Fo will join him.
Bolo offers original songs, including Bull Kailiawa Coffee Farmer, another tune about the original Ka`u Coffee farm (now `Aikane Plantation) back in the 1800s and a composition he co-wrote about the misty mountain preserve called Kaiholena. Musician and dancer Sammi Fo will join him.
KOHALA – Extreme drought continues
Drought conditions on the leeward side of the Big Island have worsened, and that means the USDA's designated Extreme Drought in the Kohala area has expanded north a bit.
The rest of the coast and all of Kona and Ka'u remain under a Sevre Drought. However, the windward side of the island received ample precipitation last week, which means its free of any drought designation at the moment.
And no matter how dry it is in places like Waikoloa or Puuanahulu, it is not as bad as on Molokai.
The rains didn't come to Molokai this week; reservoir levels continue to drop and water restrictions remain on agricultural activity, leading to an introduction of D4 – the highest level "Exceptional Drought" – across the western half of the island.
MAUNA KEA – live broadcast of Venus transit prepared
NASA EDGE – the unique podcast producers – is joining forces with the "Sun Earth Day Team" to celebrate the Transit of Venus on June 5, from the summit of Mauna Kea.
The event will center around a live 'remote' webcast from the mountain, made possible through a partnership with the University of Hawaii Institute for Astronomy. The event will not be visible from the continental U.S. in its entirety.
Organizers say the Visitors Information Station will provide a wonderful view of the entire transit with little chance of cloud cover to a worldwide audience. Leveraging their partnership with the University of Hawaii in Hilo will enable organizers to bring real-time images of the transit for the duration of the event in various wavelengths of light.
This webcast promises to also emphasize the history and importance of Hawaiian astronomy and its connections to NASA space science.
The transit or passage of a planet across the face of the Sun is a relatively rare occurrence. As seen from Earth, only transits of Mercury and Venus are possible. On average, there are 13 transits of Mercury each century.
In contrast, transits of Venus occur in pairs with more than a century separating each pair. The first transit of the this pair occurring in our lifetime was in 2004.
NORTH KOHALA – Fatal motorcycle crash
A 38-year-old Kapa?au man died this weekend from injuries he sustained in a single motorcycle crash on Akoni Pule Highway in the area of the 21-mile-marker in the North Kohala District.
The motorcycle operator was identified as Lance C.K. Pule.
Police say Pule was operating a 2011 Kawasaki motorcycle and traveling south on Akoni Pule Highway when he overtook another vehicle in a no-passing zone, lost control and ran off the right side of the highway shortly after noon on Saturday.
Pule was not wearing a helmet. He was taken by Fire Department helicopter to Kohala Hospital, where he was pronounced dead.
Police say it is unknown at this time if alcohol or drugs were involved but speed was a factor in this crash. Witnesses reported that Pule was operating the motorcycle at a high rate of speed.
Traffic Enforcement Unit officers have initiated a coroner's inquest case and have ordered an autopsy to determine the exact cause of death.
PUNA – Ulu Fest a success
The first ever Puna 'Ulu Festival was reportedly a big success, despite the heavy rains island-wide.
Andrea Dean – one of the event organizers – says over a thousand people attended the festivities at Ho'oulu Lahui, the site of Kua O Ka La Public Charter School at Pu'ala'a, adjacent to the 'Ahalanui County Park warm ponds in Puna.
The day including cooking contests, ulu poi punding and traditional preparation demonstartions, and other fun activities.
The Puna 'Ulu Festival was sponsored by Kamehameha Schools, Ho'oulu Lahui, Kua O Ka La Public Charter School, Hawai'i Homegrown Food Network and the Breadfruit Institute of the National Tropical Botanical Garden. The Puna 'Ulu Festival is a part of a larger statewide effort to revitalize breadfruit for food security called Ho'oulu ka 'Ulu.
SOUTH KONA – mobile medical van blessing, March 10
A long awaited mobile medical van will be blessed on Saturday, March 10, in a noontime ceremony at Kona Community Hospital.
The 32½ foot van is the culmination of nearly 10 years of research, work, and cooperation by Representative Robert Herkes and legislature, Kona Community Hospital, and Hawai'i Medical Service Association.
Organizers of the event say that providing health care to Hawaii Island residents, particularly school-aged children in rural areas, is a persistent challenge because of the island's size and its low population density. The van, named Ka'a Ho'ola – a vehicle of revitalization and well-being, is intended to remedy that problem. Its theme, "Growing Rural Healthcare," focuses on providing much-needed medical services in these regions.
VOLCANO – Visitor study
Hawaii County Police say they have made a number of arrests in an alleged island-wide gambling ring.
Following a half-year-long investigation stemming from citizen complaints, Big Island police arrested 13 persons for offenses associated with illegal gambling rooms in Kailua-Kona and Hilo.
Police identified the owner of the illegal Kona establishment as 44-year-old Sergio Cabal of Hilo and his sole employee as 54-year-old Aaron Hiraishi of Kailua-Kona.
On Friday March 2nd, officers served a search warrant at the establishment, located in Unit 105 at 74-5589 Alapa Street, and recovered 17 illegal video gambling machines, gambling records and $18,207 in cash. Both Cabal and Hiraishi were present, along with 10 individuals who were actively playing on illegal video gambling machines.
Cabal and Hiraishi were each arrested on suspicion of promoting gambling, possessing gambling devices and possessing gambling records.
Police also arrested a number of other individuals on suspicion of gambling, bringing the total number of arrests to 12.
All 12 were held overnight at the Kona police cellblock and then released Saturday pending further investigation.
Police served another search warrant Friday at a similar gambling establishment in Hilo located at 288 Kīlauea Avenue. There, they arrested Cabal's wife, 38-year-old Ruth Cabal, on suspicion of promoting gambling, possessing gambling devices and possessing gambling records. She was held at the Hilo police cellblock overnight and then released Saturday pending further investigation.
Monday morning, Sergio Cabal was arrested again, this time on suspicion of promoting gambling, possessing gambling devices and possessing gambling records at the Hilo establishment. He was again released pending further investigation.
The Area I and Area II Vice Section are continuing this investigation.
Police encourage the community to report suspected illegal gambling by calling the Police Department's non-emergency line at 935-3311.
Tipsters who prefer to remain anonymous may call Crime Stoppers at 961-8300 in Hilo or 329-8181 in Kona and may be eligible for a reward of up to $1,000. Crime Stoppers is a volunteer program run by ordinary citizens who want to keep their community safe. Crime Stoppers doesn't record calls or subscribe to caller ID. All Crime Stoppers information is kept confidential.
Now that the mayor has unveiled the 2012-2013 budget for Hawaii County, we can sit back and watch what will certainly be a heated back and forth between the administration and the county council over fiscal philosophy.
And the big difference between this year's budget approval process and the prior three years, is that this year is an election year… and the council chairman, Dominic Yagong, is challenging Billy Kenoi for the seat in the mayor's office.
In a three part series, Tim Bryan takes a look back at three years of budget battles, starting with 2009.
[TB]
Mayor Billy Kenoi has never had the luxury of working with surplus revenues when crafting a county budget over his three years in office.
Right from the start, in his first proposed budget message to the Hawaii County Council, the mayor said the county was facing hard economic times.
Even in his first year as mayor, Kenoi would find it hard to separate politics from budget discussions. His first tough decision was to sell the Hamakua lands that the county acquired after the fall of the sugar industry.
The move immediately raised the ire of Hamakua councilman Dominic Yagong.
Another early budget choice that became a lightning rod for negative public sentiment: the deferral of deposits from 2 percent of real property tax revenue into the Public Access, Open Space, and Natural Resources Preservation fund. Open space advocates were outraged.
It was shortly after the initial budget for 2009-2010 was proposed that the a sudden re-organization of the council's leadership took place. East Hawaii councilmembers, many of whom are political allies of the mayor, seized control. The manner in which the re-organization was done violated the Sunshine Law, and although the re-organization was eventually finalized after lengthy delays, the damage had been done. Trust between some members of the council and the mayor's office was shattered.
Which meant that when it was time to discuss the 2010-2011 budget, goodwill towards the mayor's new $376 million spending plan had vanished amongst the disenfranchised council minority.
The mayor's second year brought more tough choices… we'll take a look back at those in tomorrow's report.
The "Treasures of Hongwanji" was held Hilo's Sangha Hall on Saturday.
Every year, the Buddhist temples from Honpa Hongwanji and Higashi Hongwanji come together to share their unique items and handcrafted foods with the general public.
In addition to all sorts of delicious foods, guests could purchase plants, vegetables, Cherry Blossoms and enjoy informative displays, entertainment, kids' activities, and lucky number prizes.
One of the highlights to the day is the live music. We end our newscast with the music of guitar soloist, Unzan Pfennig – a Zen priest and an Aikido instructor who performs at Miyo's Japanese Restaurant during the week – who loops and layers melodies to form beautiful compositions, entirely on his own.
That BIVN for Tuesday, March 6, 2012… I'm Steph Salazar