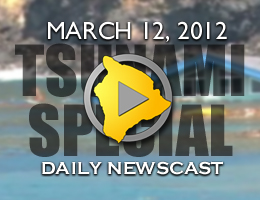 Tsunami Anniversary Special
Aired on Monday, March 12th
Mahalo to Visionary Video for all their coverage of this event, both last year and this year.
On this episode of Big Island Video News:
This weekend, the community gathered at different locations in Kona to remember the date…
Like here in Kailua Kona, along the seawall, where one year ago… the ocean surged over the top, damaging Alii Drive and surrounding businesses…
Or here, at Keauhou Bay, where the people commemorated the day of destruction with a community cleanup…
No one living on the island will soon forget Hawaii's most recent tsunami experience.
On March 11, 2011 … the world watched in horror as a 9.0 earthquake struck off Japan, sending a huge wall of ocean water rushing over the country, killing thousands.
The 2011 Tohoku earthquake was the most powerful known earthquake ever to have hit Japan, and the effects were felt here in Hawaii…
Many here on the Big Island watched the live news reports of the destruction in Japan. So it was not a surprise when the tsunami warning began to sound, and the people in coastal inundation zones began to evacuate – like here in Keaukaha, where the route is an eerie procession through the Hilo Airport.
Emergency officials kept watch in the Civil Defense headquarters… officials were certain that something was on the way… how big it would be, or when it would hit, was unknown… and in the early morning hours, when the surge was predicted to begin, the small crowds gathered in supposedly safe areas in Hilo to watch the show… a show that in East Hawaii never came.
But in West Hawaii things were different. When it appeared as if the worst had passed, the ocean began to swell.
And even as state officials expressed relief… we began to learn the news from Kona.
Businesses badly damaged… roads flooded… peirs underwater… and one village in Napoopoo nearly destroyed…
This week, we look back on the day of destruction, and its effect on the island. We will share new video from that day, and follow up on stories from ground zero, to see how these people who were directly impacted are doing today, one year later.
Stories in this segment:
March 11th Timeline, by Tim Bryan
History unearthed at Puuhonua o Honaunau, by Matt Binder
The stuff of legend in Milolii, with Sherry Bracken
Napo'opo'o Village, one year later [first aired on KITV news]
Keauhou Bay Cleanup, with Stephanie Salazar ARVE Error: The [[arve]] shortcode needs one of this attributes av1mp4, mp4, m4v, webm, ogv, url

And finally, we have some sad news to report this evening, especially for the community of North Kohala.
The revered kumu hula, Raylene Ha'alelea Kawaiae'a, was killed in a single vehicle crash on Kohala Mountain Road Friday.
Raylene has been a teacher at Queen Lili'uokalani Children's Center, and was a practitioner in the ancient Hawaiian art of reaching agreement, Ho'oponopono. Kumu Raylene has taken part in numerous community events and blessings, like this one at the new Hawaii Wildlife Center in Kapa'au, with her halau.
Police say that on Friday afternoon, Raylene was traveling from Hawi to Waimea on Kohala Mountain Road and apparently lost control of her pickup truck, crossed the center line, and crashed into a tree. When firefighters and rescue crews arrived, they found her pinned in the vehicle, already dead. Police kept the road closed until around 7:30 p.m. for the accident investigation, which is ongoing.
Kumu Raylene was 61.