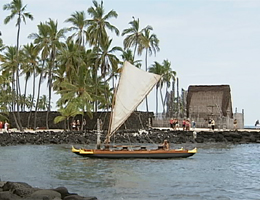 Waves reveal a glimpse of the ancient past
Video by David Corrigan, voice of Matt Binder
HONAUNAU, Hawaii: When the tsunami sirens began to sound at Pu`uhonua o Honaunau National Historical Park on March 11th, the staff knew just what to do…
As park's chief of interpretation Eric Anderson remembers, the surge began in the morning, hours after the predicted time.
These interviews were conducted in June of last year… and the memory of March 11th was still fresh in the mind of park ranger Charles Hua.
The survival of important structures in the park was not the only miracle of the day… the sea had carved away the earth, revealing a rare glimpse into the past. Anderson says possibly 500 hundred to a thousand years in the past.
The park remained closed for an entire month after the event.
When it did re-open to the public in April 2011, the Coastal Trail from the Picnic Area to the 1871 Trail junction remained closed.
Today, the park continues its year long celebration of its 50th anniversary as a unit of the National Park Service.
And this past weekend, it was a chance to reflect on the traumatic event that brought both destruction, and valuable insight.