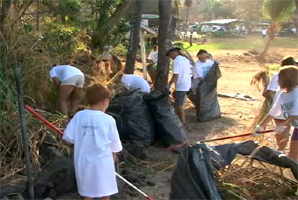 March 11th destruction remembered with malama
Video courtesy Kamehameha Investmanet Corp., voice of Stephanie Salazar
KEAUHOU, Hawaii: At Keauhou Bay, damage from March 11th is still evident.
The Kamehameha Investment Corporation held a cleanup event on Saturday in order to commemorate the one-year anniversary of the tsunami.
Although the Fair Wind snorkel tour company has rebuilt its office, its next door neighbor, the Keauhou Yacht Club, is still in bad shape. Plans to rebuild are in the works…
Keauhou Pier also still needs some work, as are the two seawalls, in front of Keauhou Canoe Club and fronting the public restrooms.
The Kamehameha Investment Corporation says they'll repair both seawalls as soon as the state approves all the permits.