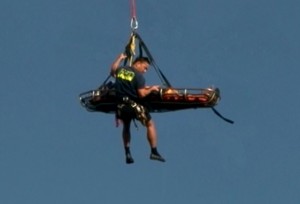 Video by Daryl Lee, Voice of Stephanie Salazar
HAWAIIAN BEACHES, Hawaii: A large wave injured an elderly couple swimming in a Puna tidepool on Sunday afternoon, at around 3:30 p.m., Hawaii County firefighters said.
The married couple, a 74-year-old man and 63-year-old woman, were able to get out of the water at Orr's Beach on their own, however they suffered some injuries in the incident.
The couple was airlifted by Chopper One to Papio Park and taken by ambulance to Hilo Medical Center. There was no word on their conditions.
News videogrpaher Daryl Lee was on the scene, where he interviewed the councilman of the Puna district, Fred Blas.
The National Weather Service had issued a high surf advisory for East facing shores of the Big Island until 6 p.m. Monday
The large breaking waves were producing dangerous rip currents.