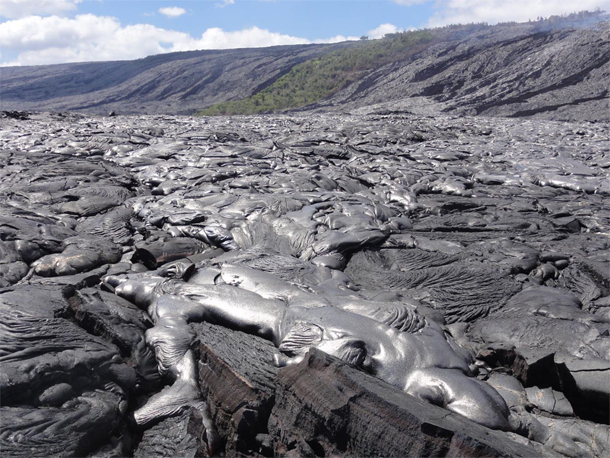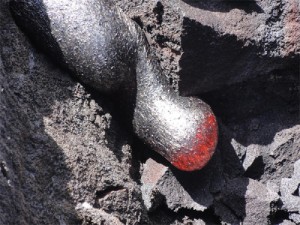 KALAPANA, Hawaii: Pahoehoe flows remain active on the upper coastal plain, extending a few hundred meters out from the base of the pali, according to the USGS Hawaiian Volcanoes Observatory.
The activity on the St. Patrick's Day was relatively sluggish, likely because of a recent deflation phase at the summit.
From Saturday's HVO daily update:
There have been no significant changes within Pu`u `O`o crater: strong glow could be seen from a small collapse pit on the northeast edge with very weak glow from the spatter cone on the southeast edge of the floor. Seismic tremor levels near Pu`u `O`o were slightly elevated over February values. The tiltmeter on the north flank of Pu`u `O`o cone recorded continued inflation with no discernible response to the most recent, but small, summit DI tilt event. GPS receivers on opposite sides of the cone were starting to show very weak extension. The most recent (preliminary) sulfur dioxide emission rate measurement was 400 tonnes/day on March 16, 2012, from all east rift zone sources.

Lava flows were again active at the top of the pali and at the base connected by a developing lava tube; yesterday, HVO geologists found the flows on the coastal plain advancing along the eastern edge of the December 2011 flows about 2.7 km (1.7 mi) from the coast.
Photos are courtesy USGS Hawaiian Volcano Observatory.