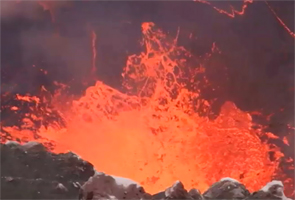 In the early morning hours of March 19, 2008, the face of the Kilauea eruption changed
Voice of Tim Bryan
HAWAII VOLCANOES NATIONAL PARK, Hawaii: Four years ago today, the Kilauea volcano went through an explosive transformation.
At 2:58 a.m. on Wednesday, March 19th in 2008, a small explosion occurred at Halema'uma'u Crater at the Kilauea summit in Hawai'i Volcanoes National Park. This event was erroneously reported as an earthquake earlier this morning, but by day break, the scientists figured out what happened.
USGS Hawaiian Volcano Observatory Geologist Matt Patrick recalls the day during a recent After Dark at the Park talk story at the national park.
Ever since that March day in 2008, a plume of volcanic gas has been ever-present at the summit, which often glowed at night, thrilling millions of visitors.
Over time, the vent grew, as rockfalls and explosions increased the size of the crater. By the end of the year, the puka was large enough for scientists to finally see what was inside.
HVO has been keeping an watchful eye on that lava lake since ever since, observing its rising and draining cycles.
More than one scientific tool is required to adequately monitor a volcano. HVO's staff includes specialists in a variety of fields—geology, seismology, gas geochemistry, geodesy (deformation), and geophysics — each of whom uses various monitoring tools and techniques.
The summit eruption has been an opportunity for these various scientists to study the volcano, up close, for the last four years.