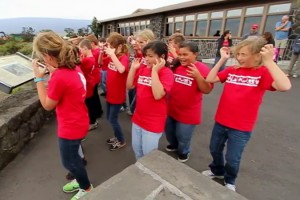 Hawaii Preparatory Academy makes annual visit to Kilauea
Video by Baron Sekiya, Hawaii247.com, voice of Stephanie Salazar
HAWAII VOLCANOES NATIONAL PARK, Hawaii: Today's marks the 4 year anniversary of the explosive summit eruption at Halema'uma'u, which changed the face of the Kilauea volcano.
No matter what geological processes are occurring, the volcano remains consecrated ground for cultural practitioners.
This video was filmed by Baron Sekiya of Hawaii24/7 on March 8th.
In it, we see teacher Cobey Doi's forth grade students at the Hawaii Preparatory Academy performing a chant at Halema'uma'u Crater, part of an annual class trip to the Hawaii Volcanoes National Park.