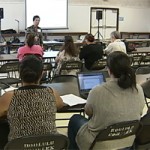 Seeking input on draft strategic plan
Video by David Corrigan, voice of Stephanie Salazar
HILO, Hawaii: The Hawaii Interagency Council on Homelessness met with the public in Hilo as well as Kona on Monday, gathering input this month on its draft strategic plan to prevent and end homelessness in Hawaii.
The council is in the midst of holding eight community sessions throughout the state to go over key points and get feedback on the draft of the State Plan.
A small group of interested folks took part in the meeting here at Aunty Sally's Lu'au Hale in Hilo
The plan is posted online for the public to review as well as comment at hawaii.gov/dhs/HomelessnessPlan
Officials say these community meetings are a continuation of the statewide, coordinated effort to address homelessness which started with the appointment of the first Governor's Coordinator on Homelessness and progressed with the work of the 90-Day Action Plan to Address Homelessness, and the establishment of the HICH.
The draft State Plan contains four overarching goals, 11 objectives, and numerous strategies. It is closely aligned with the 2010 Federal homelessness plan, entitled "Opening Doors – Federal Strategic Plan to Prevent and End Homelessness." The four overarching goals in the draft State Plan are:
1. Retool the homeless crisis response system
2. Increase access to stable and affordable housing
3. Increase economic stability and self-sufficiency
4. Improve health and stability
The Hawaii Interagency Council on Homelessness is responsible for developing for the Governor's review and approval, a statewide Strategic Plan to prevent and end homelessness, and advising on the Plan's implementation.