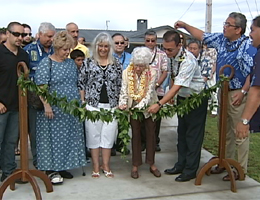 A long time coming for this Hilo neighborhood
Video by David Corrigan, voice of Stephanie Salazar
HILO, Hawaii: Roughly 100 people, including many from the Machado Acres community, gathered for a morning blessing ceremony for Machado Acres Park on Friday.
The 7.9-acre site features concrete walking paths that form three distinct loops, along with grassy play areas. It's located on Keone Street, between Haihai Street and Ainaola Drive.
County officials and elected leaders were present for the untieing of the maile lei… and later, councilman J Yoshimoto presented Thelma Machado with a framed copy of Ordinance 11-90 officially naming the facility Machado Acres Park. Machado Acres subdivision is named after the Machado family, which developed the community.
We interviewed Thelma Machado and her son John after the ceremony.
The park was designed by local landscape architect Leonard Bisel and built by Ludwig Construction Inc., which cleared the site, installed drainage improvements, erected fencing along three sides, constructed the walkways, and grassed the park.
From the Hawaii County Parks and Recreation media release:
"A park is a pu'uhonua," Mayor Billy Kenoi told attendees. "It's a safe haven for our children to go to get away from drugs, gangs and violence. It's a safe place to build a healthy community."

Generations of park users will be able to benefit from the wonderful area, Kenoi added.

Perseverance and cooperation were key factors in making the park a reality, said Hilo Councilman J Yoshimoto. He was joined by Hilo Councilman Dennis "Fresh" Onishi and former Hilo Councilman James Arakaki in delivering opening remarks.

"I think this park signifies what beautiful things we can do when we work together," Yoshimoto said.

He presented Thelma Machado with a framed copy of Ordinance 11-90 officially naming the facility Machado Acres Park. Machado Acres subdivision is named after the Machado family, which developed the community.

"Thank you so much for coming," Machado said after being the first person officially to enter the park following the untying of a ceremonial maile lei. "This is such an honor. Our family appreciates it."

Several area residents who attended the blessing ceremony commented on how the park is much bigger than it appears while driving by in a car. Many then took casual strolls along the walking paths, as children played within the park's large grassy sections.

The park was designed by local landscape architect Leonard Bisel and built by Ludwig Construction Inc., which cleared the site, installed drainage improvements, erected fencing along three sides, constructed the walkways, and grassed the park.

"This is your park," Deputy Parks Director Clayton Honma said in welcoming the attendees. "We're so lucky to have it here."