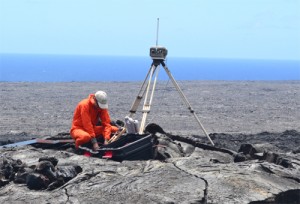 HAWAII VOLCANOES NATIONAL PARK, Hawaii: The Hawaiian Volcano Observatory website has gotten an upgrade, and now users can check out 14 webcams keeping tabs on Kilauea 24 hours a day.
Until recently, the HVO website has shown only six Webcams.
The 8 new cams also include four new thermal cams which provide a picture of temperatures in the field of view, with cool colors (blue, purple) depicting lower temperatures and hot colors (orange, red, white) showing higher temperatures.
These cameras can "see" through thick fume, as in the case of the Halemaumau vent, where the view with the naked eye and normal Webcams is otherwise entirely blocked.
Some of the other Webcams are called "Mobile Cams," because they get moved around the volcano from time to time, depending on changes in activity. Whereas our normal Webcams are fixed in place and use our radio telemetry system to send out data, these Mobile Cams transmit data over the cellular phone networks, allowing the observatory to rapidly place them wherever there is cell reception.
But Webcams aren't the only improvements to the Website. HVO computer experts have been working tirelessly to make the site more modern and efficient.
These changes will be applied to the pages showing Webcams, maps, field photos and videos, Volcano Watch articles, press releases, and regular eruption updates. These pages will only look slightly different but, under the hood, will be working much more efficiently.
Also, the observatory says that by using updated Webpage-hosting software and more robust computer servers the Website will have more reliable "uptime." The old system had some failures when many people logged on during exciting periods of activity, such as the March 2011 Kamoamoa eruption.