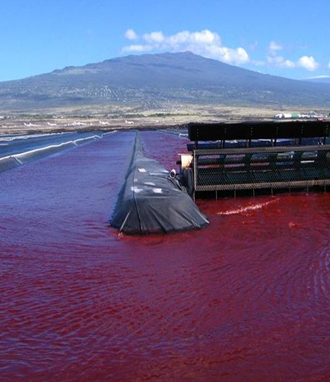 Global fishery decline spurs innovation
Video by David Corrigan, voice of Stephanie Salazar
KONA, Hawaii:  During Sam Choy's Poke Contest in Keauhou, the sustainability of the world's fishery was front and center… thanks to this presentation by the Executive Director at Friends of NELHA, Guy Toyama…
In this video, which shows a portion of Toyama's talk, we are shown the current, sobering state of the world wide fishery. Something for everyone to consider, here at this event where the main attraction is seafood.
As Toyama says, when a global resource diminshes, Hawaii is put in a tough spot because it is the most remote land mass in the world. Relying on providers that are off island is a fragile practice.
But there is hope for the state, thanks to the effort that he is so involved in.
The mission statement for NELHA, or the Natural Energy Laboratory of Hawaii Authority, is "to develop and diversify the Hawaii economy by providing resources and facilities for energy and ocean-related research, education, and commercial activities in an environmentally sound and culturally sensitive manner."
The innovative ocean science and technology park is strategically located… next to the Kona International Airport, and adjacent to one of the steepest bathymetric offshore slopes in the Hawaiian Islands.
Why is that so important? Toyama explains it is the deep, cold waters that contain the nutrients vital to replenishing the health of the ocean's food chain.
Toyama details the large variety of projects underway at the sprawling NELHA tech park, many of which have to do with seafood sustainability.
Part of the highlights: Big Island Abalone, Kona Cold Lobster, shrimp farmer broodstock industry, Kona Kampachi, Ogo from Royal Hawaiian Seafarms, and Cyanotech's Spirulina and BioAstin microalgae.
Guy Toyama
President of Friends of NELHA

"We now have 7 billion people on the planet, in case you didn't hear. And its growing. It will be 8 billion, pretty soon. We have more and more people wanting to eat seafood as a protein resource. This growing population, and the demand for seafood itself, is leading us ahead to a 70 to 90 million tons a year shortfall of seafood protein. We're running into a disaster, of sorts. In fact, seafood for the United states is second only to petroleum in our import deficit. That's how big this industry is and how important it is for sustaining our people."