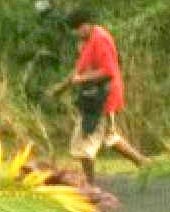 January 7th burglary on Hanalei Drive caught on tape, police distribute photo
AINALOA SUBDIVISION, Hawaii: Hawaii County police are asking for the public's help in identifying a burglary suspect captured on camera early this year.
Police say that on January 7 at about 7:30 a.m., Puna patrol officers responded to a call on Hanalei Drive in the Ainaloa Subdivision after witnesses reported suspicious activity at a residence.
"Three individuals were observed in the area," states a police media release. "Police arrested two Pāhoa men—20-year-old Thomas Daniel Wellman and 22-year-old Robert Roberto Galindez —on suspicion of first-degree burglary. They were later released pending further investigation."
Police say the third man fled on foot. He is described as an adult male possibly in his early 20s with dark brown skin, black hair and a medium to heavy-set build. He was wearing a red shirt, beige shorts, a black cap and slippers. Police recovered a video and still image of the suspect taken as he left the area. The still image is shown on the top right side of this article.
Police ask that anyone with information on his identity contact Detective Robert Almeida by phone at 961-2386 or by email at ralmeida@co.hawaii.hi.us.
Tipsters who prefer to remain anonymous may call Crime Stoppers at 961-8300 in Hilo or 329-8181 in Kona and may be eligible for a reward of up to $1,000. Crime Stoppers is a volunteer program run by ordinary citizens who want to keep their community safe. Crime Stoppers doesn't record calls or subscribe to caller ID. All Crime Stoppers information is kept confidential.