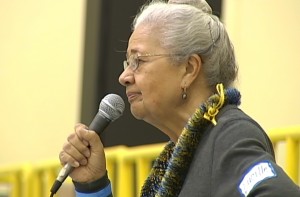 Aunty Lucille Chung shares a quick update on the process
Video by David Corrigan
LAUPAHOEHOE, Hawaii: With the new charter school opening right around the corner, the first annual Fun Fest was held on the scenic grounds of the Laupahoehoe High and Elementary School this Saturday.
Organizers estimated that a few hundred members of the community – young and old – attended the day of music, food, and activity, which was publicized as a "Welcome and Information" event for the charter conversion, set to start the 2012-2013 school year in July. That makes this the final year the Department of Education will operate the school.
In a Final Decision by the Board of Education on January 24, 2012, the Board reversed a decision by the Charter School Review Panel that tried to delay the opening of the charter school. The Panel had directed that the school not open before the 2013-2014 school year, after the Interim Local School Board for the charter failed to hold an election for a permanent Local School Board, as directed. Opponents of the charter school conversion were outraged by the BOE's final decision.
The dispute has been taken to court. In the meantime, charter supporters are pushing ahead with plans to open the school and hire staff. A large number of teachers are transferring out of Laupahoehoe before the 2012-2013 school year begins, leaving a lot of work ahead for the Interim Local School Board.
In this video, Aunty Lucille Chung, one of the local leaders in the charter school effort and an active figure in the Laupahoehoe community, speaks about the planning process and the success of the Fun Fest.
Lucille Chung
Chairman of the ILSB

"We are working very hard on trying to get our Director of Operations on board…. They will be the principal of the school, but just calling it by a different name, 'Director of Operations'… It needs board approval. We have made a selection, but it still needs board approval, and some discussion before we can say he is completely on board.

I would like the alumni of the school to embrace this new journey, that we're gonna go on as a charter school… We will not forget the values we learned as Laupahoehoe School, we're just adding 'charter' to it. We'll still be the Seasiders." – Chung in 3.24.2012 video interview