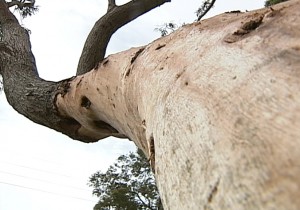 Media release from the Waimea Community Association
WAIMEA, Hawaii: Three hot topics – learning to become "self-reliant" during times of emergency, an update on North Hawai'i Community Hospital including its Women's Center, and a briefing on the recent criminal stripping of bark that will kill several magnificent Waimea Park koa trees – will top the Waimea Community Association's (WCA) Town Meeting agenda beginning at 5:15 p.m., Thurs., April 5, 2012 in Waimea School Cafeteria.
Leading the emergency preparedness discussion will be an introduction of Hawai'i County Civil Defense's new Administrator Benedict Fuata, who officially started this new position March 1. Joining him will be his administrative officer Bill Hanson who coordinates Civil Defense's Community Emergency Response Teams (CERT) – trained grassroots groups empowered to help the community be self-reliant in times of emergency. Also presenting will be Assistant Fire Chief Glen Honda, who is the Hawai'i County Fire Department Liaison for the CERT program. Also attending and participating in this important discussion will be South Kohala Police Capt. Aimee Wana and Community Policing Officer Brent Foster.
Waimea has held CERT training in the past but only a few community members participated; it is hoped this will compel and inspire more to take the training, knowing that rural communities need to be almost totally self-reliant for as much as a week or two should a major natural or man-made disaster strike, such as a hurricane, significant earthquakes or tsunami. A CERT training is scheduled in Waimea on four consecutive Saturdays – June 9, 16, 23 and 30, 2012, at Waimea School Cafeteria. All of Waimea's neighboring communities of Puako, Kawaihae and Waikoloa Village are invited to participate in the training.
Also on the WCA Town Meeting agenda will be a 15-minute briefing about North Hawai'i Community Hospital including recent concerns regarding its Women's Center.
Then, representatives of Waimea Outdoor Circle (WOC) will lead the discussion of recent – puzzling – criminal activity in Waimea Park that involved complete stripping of bark from a number of koa trees, which will kill each of these trees. WOC leader Carol Hendricks will review plans to remove and replace these trees and also review their work with the police, County and others to try to understand how and why this incident occurred and how to prevent its reoccurence. A fundraising program will be announced to pay for removal and replacement of these prized trees, which were planted by the Waimea Outdoor Circle with financial support from the community. Some of the trees were planted in honor or memory of community members, making this destructive activity all the more heartless and tragic.
The agenda also includes a briefing by Laura Dierenfield about a $100,000 grant recently received by People's Advocacy for Trails Hawai'i (PATH) from Hawai'i Community Foundation's Island Innovation Fund. The grant will facilitate PATH working with Big Island private landowners on a pilot project to provide public access to their land for subsistence, cultural practices, recreation and/or transportation. Also, there will be a short update on the Hamakua Youth Center, which serves middle and high school students including many from Waimea who attend Honoka'a High School.
As always at WCA Town Meetings, donations are urged for Waimea food pantries — preferably checks or cash to enable pantry staff to purchase fresh fruit, vegetables and other essentials for families in need. Also, hot coffee provided by Starbucks-Waimea will be offered. There is no charge for the coffee, but donations are welcome for the coffee to be given to the food pantry too.
For more information, go to Waimea Community Association's website: www.WaimeaTown.org and sign up on home page, or call WCA President Sherman Warner (885-1725).