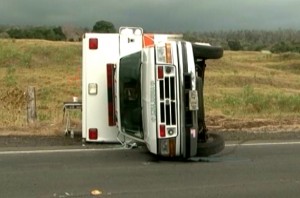 Video by Daryl Lee, voice of Stephanie Salazar
HONOMALINO, Hawaii: Just after noon on Sunday, Big Island rescue crews became the rescued… after this ambulance rolled on to its side on Highway 11 in Honomalino near the 87th mile marker.
Details are scarce at this time, but sources say at least two people were injured. They were taken to Kona Community Hospital. The injuries are not believed to be life-threatening.
It's unknown whether a patient was in the ambulance at the time of the crash.
Police were forced to contraflow traffic as crews cleared the scene.
We will have more information as it becomes available.