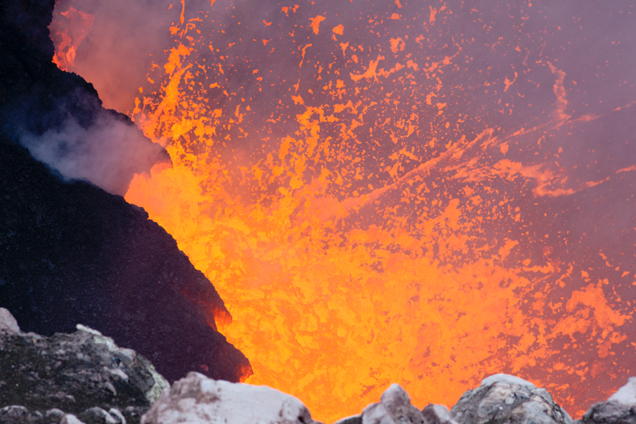 HAWAII VOLCANOES NATIONAL PARK, Hawaii: Scientists with the USGS Hawaiian Volcano Observatory are reporting a  relatively high lava lake level at the Halema`uma`u crater vent over the past two days, following a summit inflation at Kilauea.
According to Tuesday's Kilauea activity report:
The summit tiltmeter network recorded another DI deflation around 5 pm last night when the lava lake level started to drop; a laser rangefinder measurement yesterday placed the lava lake surface about 67 m (220 ft) below the Halema`uma`u Crater floor – a pretty high level.
The lava has been close to the level of the deep inner ledge. A photo released by HVO (above) shows continuous spattering at the southern lake margin tossing spatter onto the crusted lake surface as well as onto the rim of the ledge, building a steep spatter rampart (left side of image).
HVO says the summit lava lake is deep within a 520 foot diameter cylindrical vent with nearly vertical sides inset within the east wall and floor of Halema`uma`u Crater. The lava level level fluctuates from about 200 feet to a level that puts it out of sight below the floor of Halema`uma`u Crater. The vent has been mostly active since opening with a small explosive event on March 19, 2008. Most recently, the lava level of the lake has remained below an inner ledge (200 ft below the floor of Halema`uma`u Crater on May 9, 2012) and responded to summit tilt changes with the lake receding during deflation and rising during inflation.