HAWAII: 200 donated Apple iPads will be used by administrators in Hawaii's teacher evaluation pilot program. The DOE has more.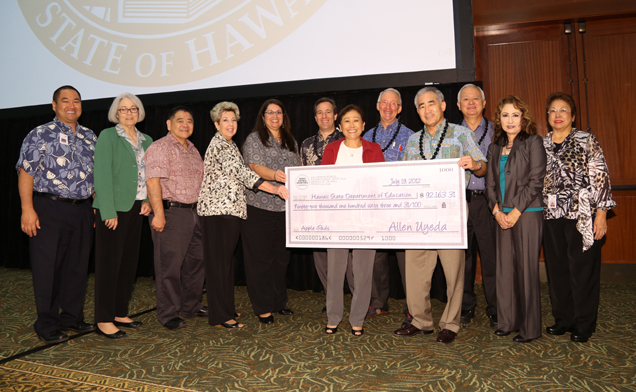 The Hawaii State Department of Education (DOE) received nearly 200 Apple iPads from the Hawaii Business Roundtable (HBR), to support the next phase of the Department's teacher evaluation pilot program.
HBR donated three Apple iPads for each of the 64 schools that voluntarily joined the pilot program ($100,000 approximate value).
"I want to thank Superintendent Matayoshi for reaching out to our members with this partnership opportunity," said Hawaii Business Roundtable Chairman Allen Uyeda. "This program supports the professionals on the front lines of our public education system, our school administrators and educators. In an indirect yet meaningful way, it also contributes to the DOE's overall goal of preparing our students to succeed as adults in the 21st century global economy."
The department completed its first year of the pilot program in 18 schools in the Zones of School Innovation this past school year (Nanakuli-Waianae and Kau-Keaau-Pahoa complex areas). Phase two of the pilot program will begin this month at the start of the 2012-13 school year.
Utilizing a common classroom observation process adapted from the Charlotte Danielson Framework for Teaching, administrators will use the donated iPads to classify findings within a pre-set observation template, identify relevant professional development opportunities, and email their findings to the teacher in advance of the post-observation conference.
"This is a very generous gift from Hawaii Business Roundtable, which will help to support our dedicated and courageous school administrators, as they continue to work toward a new and improved evaluation system," said Superintendent Kathryn Matayoshi. "Having the latest high-tech equipment to communicate feedback faster to our teachers is a huge boost for the Department."