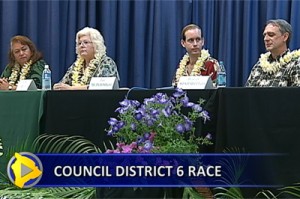 Its a four person race for the County Council district 6 seat. The newly drawn district is by far the largest on the island, stretching from Volcano Village on the East side all the way across Ka'u and up South Kona to Kealakekua.
Brenda Ford, who is already on the council as a representative of South Kona, will face challenges from Bradley Westervelt, Maile David, and Lee McIntosh.
Recently, the four candidates introduced themselves to a crowd at the Kealakehe High School cafeteria, during a candidate forum moderated by Sherry Bracken.
Ford has been a staunch advocate for West Hawaii, and now she will be seeking to represent towns that are closer to East Hawaii in orientation. Many consider Volcano Village to be in Puna.
Although she has gone toe to toe with the Hilo voting block in the past, Ford promises to play nicely with others if elected. After all, she would be the senior member on the governing body.
Meanwhile, one of her opponents, life-long Kona resident Maile David – says her experience makes her ideal for the job. David focused more on her paralegal background during this forum in Kealakehe.
Soft spoken Lee McIntosh is a resident of Discovery Harbour in Ka'u. He owns and operates GopherLee, a local landscaping business. Here, he shares his vision for the district, if elected.
While Pahala resident Bradley Westervelt says he brings a diverse set of skills shaped by a lifetime of experience in the private sector.