Big tourism growth not enough to speed up slow recovery
HILO, Hawaii: The tourism industry is propping up the state of Hawaii, experts say, as the islands continue to see a measured economic recovery since the big drop off in 2009.
The analysis was recently presented to the Hawaii Island Chamber of Commerce members during the 38th annual Hawaii County Business Outlook Forum.
According to Hawaii Pacific University economics professor Dr. Leroy Laney, visitor arrivals are up significantly and spending growth is strong. But when mixed with some of Hawaii Island's other sectors, the overall picture is more of the same.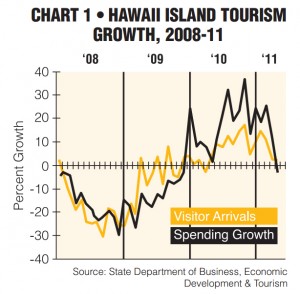 Laney provided a number of charts to explain his deductions, like this one (right) showing arrivals and spending growth on Hawaii Island.
Laney said its been a big year in terms of marketing Hawaii Island… formerly known as the Big Island, officials made a change this year. From the First Hawaiian Bank Economic Forecast, available here for download:
A significant development is a re-branding of the island in terms of marketing. Apparently there are enough "geographically challenged" people around who confuse "the Big Island" with Oahu, where the bulk of the population resides. Thus, a new identity for Hawaii County is being sought: "Hawaii Island." The Hawaii Island Visitors Bureau considers this an important change in image.
There have been ups and downs in terms of air service to the island. But the loss of JAL direct service to Kona has been traded for a gain in Hilo. In 2011,  Continental/ United has begun direct daily 737-800 service from Los Angeles. Still, Hilo has a problem when it comes to overnight stays.
There remains a longstanding need for more updated visitor accommodations in Hilo. Since the state leasehold problems with Banyan Drive hotels make renovations there unprofitable, any addition would likely be located elsewhere. Bringing Hilo more into the action would serve to further diversify the island's visitor experience, and distinguish it more from the typical sun-and-surf tropical destination
Laney also said Kohala resort occupancy hovers slightly over 60%.
We will have more from Dr. Laney's presentation this week, including a look at Hawaii Island's construction and real estate sectors, science and higher education, and agriculture.