SOURCE: Hawaii Tourism Authority
TOTAL VISITOR SPENDING IN JULY 2012 GREW 17.8 PERCENT WHILE ARRIVALS ROSE 7.8 PERCENT
Year-to-Date Total Visitor Spending (+20.8%) and Arrivals (+9.8%) Also Increased
HONOLULU – Total expenditures by visitors who came to Hawai'i in July 2012 rose 17.8 percent (or +$193.8 million) compared to the previous year to $1.28 billion, according to preliminary statistics released today by the Hawai'i Tourism Authority. Higher daily spending and a 7.8 percent growth in total arrivals (to 720,355 visitors) contributed to this increase.
Among Hawai'i's top visitor markets, arrivals by air from U.S. West grew 3.4 percent from July 2011 to 299,072 visitors, the ninth consecutive month of growth. Total U.S. West visitor expenditures increased 10.3 percent to $436.7 million. Arrivals from U.S. East in July 2012 were similar to last July at 166,944 visitors. However, increased daily spending boosted U.S. East total visitor expenditures (+15.1%) to $347.8 million.
Japanese arrivals rose 21.5 percent to 135,764 visitors in July 2012, but remained lower than the July 1997 record of 203,827 visitors. Higher daily spending also contributed to a 31.6 percent jump in total Japanese visitor expenditures to $248.8 million. Canadian arrivals totaled 25,489 visitors, relatively unchanged from July 2011; while total visitor expenditures increased 1.8 percent to $46.3 million. Total visitor expenditures (+29.9% to $203.4 million) and arrivals (+24.6%) from all other markets also showed strong growth compared to July 2011.
No visitors came to Hawai'i by cruise ship in July 2012.
Year-to-date 2012:
For the first seven months of 2012, total visitor expenditures rose 20.8 percent to $8.40 billion, led by double-digit growth from Japan (+27.1% to $1.41 billion), Canada (+11.7% to $636.8 million) and all others (+68.2% to $1.59 billion). Total arrivals grew 9.8 percent to 4,652,621 visitors. Arrivals from all other markets climbed 28.1 percent from the first seven months of 2011. Total visitor expenditures increased on all Hawaiian Islands compared to year-to-date 2011.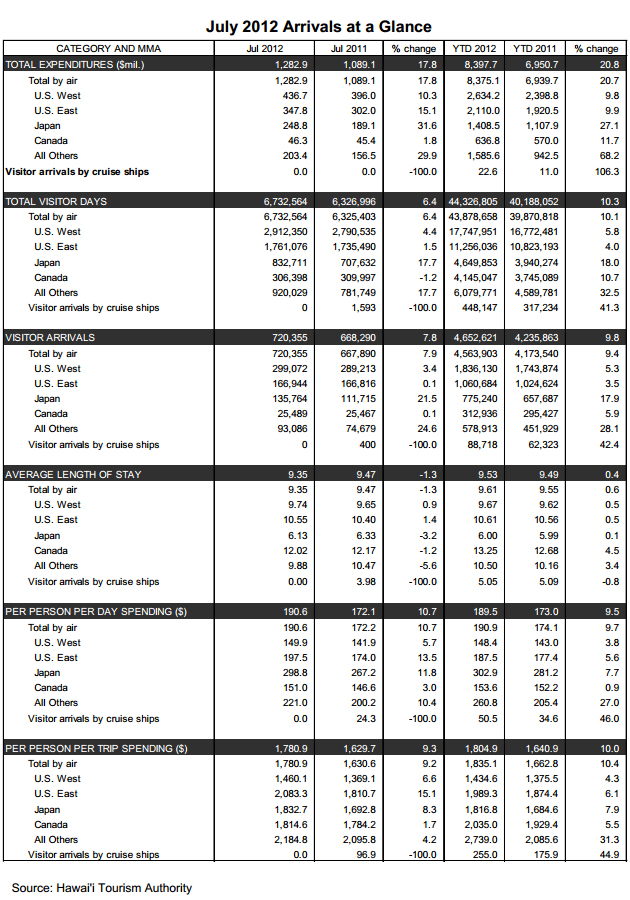 Additional Highlights:
A total of 49,779 visitors came to honeymoon in July 2012, an increase of 20.2 percent, and the sixth consecutive month of double-digit growth. Honeymooners from all visitor markets rose compared to July 2011. Japanese honeymooners grew 20.1 percent to 18,485 visitors; while honeymooners from all other markets nearly doubled (8,461 visitors from 4,408 visitors in July 2011). For the first seven months of 2012, total honeymoon visitors increased 15.8 percent compared to the same period last year.
More visitors also came to get married (+17.1% to 10,407 visitors) compared to July 2011. Increases from Japan (+32.8% to 5,128 visitors), U.S. West (+7.9% to 2,889 visitors), and all other visitors (600 visitors, from 299 visitors), more than offset fewer visitors from U.S. East (-15.5% to 1,579 visitors). For the first seven months of 2012, a total of 71,288 visitors came to get married, up 4.7 percent from a year ago.
There were moderate increases in the total number of visitors who came for conventions (+3.8%), meetings (+0.6%) and incentives (+5.6%) (MCI) compared to July 2011. For the first seven months of 2012, total MCI visitors grew 2.9 percent to 280,254 visitors.
More total visitors stayed in hotels (+10.7%) in July 2012 compared to last July, with increases from Japan (+25.1%), U.S. West (+2.7%) and U.S. East (+1.3%).
Fewer total visitors in July 2012 stayed in timeshare properties (-1.9%) than during the same month last year. The 29.6 percent growth in Japanese visitors who stayed in timeshare properties offset decreases from U.S. West (-4.5%) and U.S. East (-4.3%) visitors.
The number of visitors on organized tour groups in July 2012 climbed 35.2 percent from a year ago, the fifth month of consecutive double-digit growth. Much of the increase was from the Japanese market which saw a 46.7 percent jump in group tour visitors.
Contributing to the growth in U.S. West visitors in July 2012 was a 4.5 percent increase from the Pacific region, as more visitors from California (+6.3%) offset fewer visitors from Oregon (-4%).
Arrivals from the Mountain region decreased 5.3 percent compared to July 2011. For the first seven months of 2012, arrivals from the Pacific region rose 6.2 percent, led by a 10.1 percent growth from California. For every month of 2012, the number of visitors from California has increased compared to last year. In contrast, arrivals from Oregon have declined in all seven months of 2012. Arrivals from the Mountain region grew 1.8 percent (Table 2, Page 12).
Arrivals from U.S. East in July 2012 were relatively unchanged from last July. The Middle Atlantic region showed double-digit growth in arrivals (+13%), supported by direct flights from New York City to Honolulu which were added in June 2012. Arrivals from the New England region rose 3.4 percent. These increases balanced out lower arrivals from West North Central (-12.6%), East North Central (-7.2%), East South Central (-5.8%) and West South Central (-2.8%) regions. For the first seven months of 2012, arrivals from New England and East North Central regions were about the same as the first seven months of 2011; while arrivals from all other U.S. East regions showed positive growth.
Mike McCartney, president & CEO of the Hawai'i Tourism Authority, on Hawaii Island tourism economy:
Hawai'i's tourism economy continues to be on pace for a record year through July as the state  welcomed 1,800 more visitors each day and an additional $17 dollars per person in daily spending compared to 2011. This activity has resulted in total visitor arrivals increasing 9.8  percent to 4.7 million visitors and total expenditures jumping 20.8 percent to $8.4 billion, up $1.4  billion from last year. Year-to-date visitor spending has generated an estimated $915 million in  state tax revenues and will help to sustain more than 160,000 Hawai'i jobs in 2012.

We anticipate that the momentum from the positive increase in visitor arrivals and spending will  continue through the second half of the year. HTA's ongoing efforts to lead global marketing  initiatives, invest in programs contributing to incremental and new airlift, and cultivate and  promote experiential activities and programs across the state has resulted in increasing visitors
arrivals and spending throughout the Hawaiian Islands.

Total visitor expenditures on Hawai'i Island were up 9.1 percent to $146.1 million in July 2012.

Arrivals grew 6.9 percent from July 2011, led by increases from Japan (+29.3%), Canada  (+23.9%) and U.S. West (+4.8%), which more than offset a 5.9 percent drop in U.S. East  arrivals. The average daily spending on Hawai'i Island was higher compared to last July (+3.8%  to $163 per person).

For the first seven months of 2012, total arrivals to this island rose 8 percent to 849,072 visitors.

Of this, 47 percent stayed exclusively on Hawai'i Island. Total visitor expenditures grew 16.9  percent to $1 billion.

As a result of these positive changes, last month, the HTA revised its targets upward for 2012- 2014 with arrivals and spending from U.S., Canada, Japan, Oceania and Europe outpacing  original targets set back in September 2011.

At the recent 2012 Hawai'i Tourism Conference, E Ku i ka Moku, the HTA gathered more than  600 industry professionals in addition to local, national and international experts to develop  ideas and solutions to sustain Hawai'i's number one industry. The HTA is looking forward to  building upon this teamwork and economic momentum to mālama Hawai'i, provide quality
experiences and support jobs for Hawai'i residents.