Photos courtesy USGS Hawaiian Volcano Observatory, video courtesy Bo Lozoff | Voice of Stephanie Salazar
KALAPANA, Hawaii: Lava has once again reached the base of the Pulama Pali near Kalapana
The Hawaiian Volcano Observatory says advancing surface flows have reached the base of the pali over the past few days, burning through one of the few remaining forested kipuka in the abandoned Royal Gardens subdivision.
The latest update from the HVO website's Kilauea eruption update (Oct. 5):
More lava lobes reached the base of the pali yesterday within the abandoned Royal Gardens subdivision and pooled on the coastal plain without advancing significant seaward. Yesterday, HVO and UHH geologists found that the flows had not advanced more than 150 m (490 ft) from the base of the pali. The pali flows have been easily visible from the County Viewing Area located to the east in Kalapana and mobile cam 3 while the flows on the coastal plain are in view of mobile cams 2 and 4.
HVO released this photo (right), where a white line marks the outline of the active flows.
Another photo shows a closer view of lava flows cascading down onto the coastal plain at the base of the pali. A remnant section of Orchid Street is visible just above the center of the image.
Meanwhile, intrepid lava lover Bo Lozoff, who often guides lava field hikes when things heat up on the coastal plain, captured this video of the kipuku burning in Royal Gardens.
He also captured these images the immense lava flow.
You can follow Lozoff's volcano updates on his YouTube channel, "lavaloverbo" where he uploads video like this following his hiking adventures.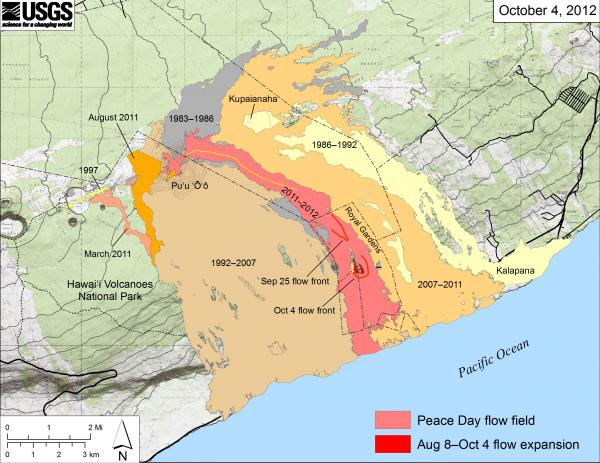 According to the USGS, this map above shows the currently active Peace Day flow (episode 61) "as the two shades of red—light red is the extent of the flow from September 21, 2011, to September 25, 2012, and bright red marks the mapped flow expansion from September 25 to October 4. There have been flow margin changes upslope, in the upper part of Royal Gardens, that are not yet mapped and not shown on this map. The active lava tube is delineated by the yellow line within the active flow field. An incipient tube extends downslope to feed the currently active flows, but it has not been mapped. The contour interval on Puʻu ʻŌʻō is 5 m."