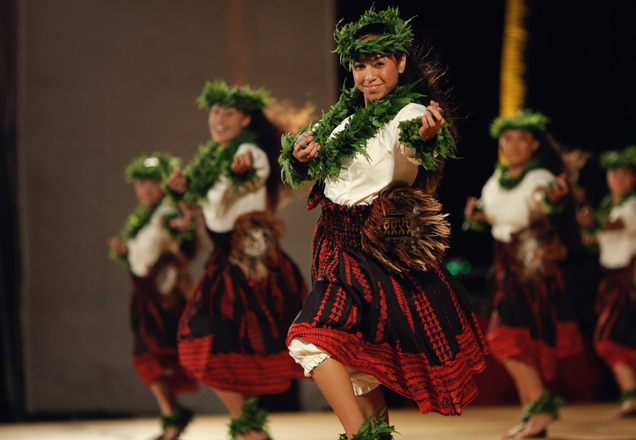 Media release courtesy Moku O Keawe Foundation
KOHALA COAST, HAWAI'I — The 7th Annual Moku O Keawe International Hula Festival, November 1-3, 2012 at Waikoloa Beach Resort, offers something special for everyone who loves Hawaiian culture. Along with the Festival's three nights of exciting international hula competition at Waikoloa Bowl at Queens' Gardens, is an extensive Made-in-Hawai'i Marketplace at Waikoloa Beach Marriott Resort & Spa.
Moku O Keawe also promotes cultural education through a series of hands-on workshops in hula kahiko and 'auwana, chant, cordage, ipu-making and more. One of Hawaii's most distinctive hula events, Moku O Keawe is an educational, entertaining and engaging experience for visitors and residents to enjoy on many levels.
International competition, Waikoloa Bowl at Queens' Gardens. Moku O Keawe brings together hālau from Hawai'i, Japan, Mexico, the U.S. Mainland and elsewhere with top caliber hula competition in Hula Kahiko, Hula 'Auwana, and Kupuna divisions, group and solo. Competition nights feature live music onstage and Mistress of Ceremonies, KAPA radio personality Ka'ea Alapa'i. Affordable for everyone, Moku O Keawe tickets are only $5 Lawn seating, $15.00 Reserved. (Ticketmaster fees additional. Beach chairs and mats welcomed!)
Cultural Workshops. The hula competition judges—Nalani Kanaka'ole, Ed Collier, Iwalani Kalima, Nalei Napaepae-Kunewa–are asked to share their knowledge through workshops. As masters, their insights and experiences are offered on a personal basis, allowing participants an opportunity to learn about hula kahiko and hula 'auwana, as the various lineages of the kumu hula are unique forms in style, repertoire, and interpretation. Registration is limited and students are urged to register early by visiting www.MOKIF.com.
Hawai'i Marketplace, Waikoloa Beach Marriott Resort & Spa. The Made-In-Hawai'i Marketplace features a wide variety of some of the best products from 35 Island of Hawai'i vendors, including Hula implements, fresh lei, silk-screened clothing, woven lauhala hats and purses and jewelry.
"A plethora of knowledge of Hula – both 'auwana and kahiko – has been shared via Moku O Keawe International Festival," said designer Kuha'o Zane. "Implements, costuming, chants, a sense of place, and most importantly, we share our unique perspective of Hawaiian thought. We remember all who have brought us to this point and have firmly planted the pillars of knowledge for the next generation to build upon."
"Much like the light rain that falls on to the ʻōhiʻa, gathering within the tips of the lehua blossoms, and dripping down to nourish the tap root—this year's design embodies the process of our lehua, gathering the moisture that will promote proper growth by nourishing the taproot. We flourish," he said.
The Moku O Keawe International Festival is sponsored by the Moku O Keawe Foundation, a private nonprofit organization dedicated to enhancing, enriching and educating the practice and development of hula and its associated arts. For information and tickets to events, visit www.MOKIF.com

(ABOVE: photo of MOKIF 2011 competition by Aaron Yoshino, Beamer-Solomon Halau O Po'ohala)