Media release from Volcano Art Center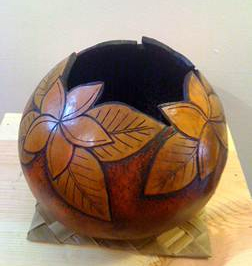 With summer slipping away and the holidays right around the corner, Volcano Art Center invites you to "get your gourd on" with artist Jelena Clay in two back-to-back crafting courses on Saturday, October 27.
Basic Gourd Craft will be held from 9:30am to 12:00pm. Learn the basics of cleaning and prepping a gourd with a focus on safety, design, weaving and coloring using stains, dyes and guilders paste. Each student will receive an already cleaned and prepped gourd and natural decorative materials to leave the class with a finished piece. No prior experience needed; cost is $40 plus a $30 supply fee.
Gourd Sculpture & Wall Art will be held from 1:30 to 4:30pm. In this more advanced afternoon session, students will learn to compose a sculpture or wall art using gourds and gourd pieces. While prior gourd crafting skills are not necessary, students must come prepared with their own Dremel rotary tool. A Dremel tool can be purchased at any craft or hardware stores. Cost is $30 plus a $40 supply fee.
Instructor Jelena Clay is an accomplished gourd artist with work featured prominently in many juried shows, at the Volcano Art Center Galleries and the Puka Gallery in Honomu. She combines modern and traditional Hawaiian techniques to create her ornately decorated pieces depicting Hawaiian cultural themes. While mostly self-taught, Clay has been mentored by Kumu Ray Kahikulaulani Fonseca, Jon Jon Hookano, Pam Barton and Willie Grey Eagle Maglophlin.
"I am absolutely driven to create my work and create with absolute respect for the Hawaiian culture," states Clay. "I am fascinated by the deep connection the early Hawaiians had to the environment and hope to portray that in my work."
She and her husband have called Hawaii's Big Island home since 1984 and currently reside on a 30-acre ranch near Akaka Falls where she continues to hone her craft while raising peacocks, boxers, cattle, horses and their three children.
Both classes will be held at VAC's Niaulani Campus located at 19-4074 Old Volcano Road in Volcano Village. Space is limited and pre-registration is required. For more information, visit www.volcanoartcenter.org or contact VAC's Program Coordinator Julie Callahan at (808) 967-8222 or julie@volcanoartcenter.org.
Volcano Art Center (VAC) is a nonprofit 501(c)(3) organization founded in 1974 to develop, promote and perpetuate the artistic, cultural and environmental heritage of Hawaii's people through the arts and education.