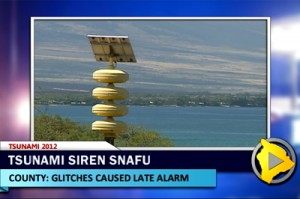 By David Corrigan
HILO, Hawaii: 13 of 71 emergency sirens on Hawaii Island are still not working properly.
That's the conclusion from county officials after Thursday's statewide Civil Defense test.
The sirens were all supposed to ring at 11:45 a.m., as previously scheduled.
Hawaiʻi County police and fire personnel were tasked with monitoring all 71 sites around the island to provide feedback about which sirens need to be repaired or adjusted.
The close monitoring comes as a result of last Saturday night's snafu, when numerous sirens did not sound on time following a 7.7 earthquake off the Pacific Coast of Canada that triggered a tsunami warning for the entire Aloha State. Some sirens did not sound at all.
The Big Island's siren system is managed by State Civil Defense, but the counties provide assistance with maintenance and operation of the warning sirens.
Thursday's test revealed more problems. 13 sirens failed to sound properly or didnt sound at all.
Police say those sirens were located at Kawailani Street in Hilo, Pāpaikou, Paauilo, Oʻokala, Hakalau, Laupāhoehoe Point Park, Honokaʻa, Waiaka, Puakō, Kamehameha Park, Kahaluʻu Beach Park, Nāpoʻopoʻo and Makuʻu Avenue in Hawaiian Paradise Park.
Adding to Thursday's confusion, a follow-up test was conducted hours later at 3:10 p.m. without any advance warning.
County officials apologized and civil defense sent out various messages saying the sirens were a only part of further tests.
Police say Mayor Kenoi authorized immediate repairs. Personnel from State Civil Defense will be on the island of Hawaiʻi on Friday (November 2nd) to work with personnel from the Police Department's Radio Shop and begin the repairs.