By David Corrigan
KONA, Hawaii: Construction of the long awaited Hawaii Community College Pālamanui campus in West Hawaii will soon begin.
The University of Hawaii has announced that bidding on the project has begun. The UH Office of Procurement and Real Property Management has posted a notice here.
According to a UH media release, the first phase includes:
… construction of Pālamanui's Culinary Arts Building and the Health Science and Student Services Building. Construction will cover approximately 24,000 square feet and will include new classrooms, learning kitchens, and science laboratories. These buildings will house functions servicing the Culinary Arts, Nursing, and Allied Health programs, and Student Services Administration.
[FMP poster="https://www.bigislandvideonews.com/media/2012/02february/0201palamanuiBIG.jpg" width="280″ height="153″]https://www.bigislandvideonews.com/media/2012/02february/0201palamanui.mp4[/FMP]
In February, the University of Hawaii received $9.68 million from Pālamanui LLC — a partnership between Hunt Companies and Charles R. Schwab — to begin construction of the first phase of the planned campus. A ceremonial check presentation was held at the West Hawaii Civic Center (right).
Pālamanui will be the 11th permanent campus of the University of Hawaii System, and should support about 700 students when it is expected to open its doors in the fall of 2014.
M.R.C. Greenwood, UH President
via media release:
"We are thrilled to begin the building process for this much anticipated campus and grateful for the ongoing support this project has received. Pālamanui will create both new jobs and new academic opportunities."
John Morton, UH Vice President for Community Colleges
via media release:
"We are excited to be able to bring the promise of a degree closer to the growing West Hawai'i community."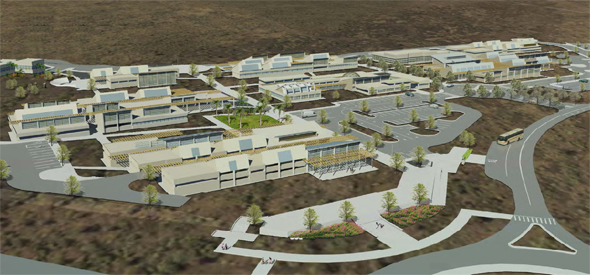 This rendering (above) depicts the future UH Center-West Hawaii