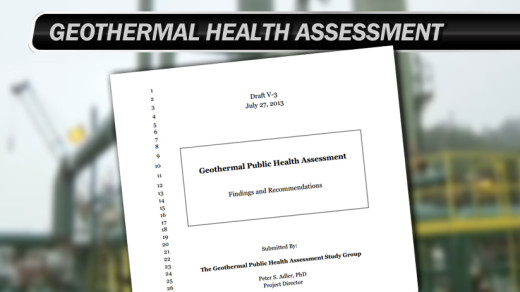 PUNA, Hawaii – The Geothermal Public Health Assessment findings and recommendations have been posted in draft form.
The 118 page document, as has been stated before, is not a scientific research paper, but rather a joint fact finding effort done through a "study group". It was organized and conducted by Peter Adler at the request of Mayor Billy Kenoi, who at the time was facing increased public outcry over the effects of the existing geothermal industry on public health – specifically in the area nearest the Puna Geothermal Venture plant – and the planned expansion of the industry around the resource. (link to the document below)
From the draft report:
After discussion and assurances that the inquiry would focus on the best factual information available and be conducted without political interference or advocacy, Adler was contracted to undertake a "joint fact finding" approach that would involve scientists, knowledgeable community leaders, medical clinicians, and others with experience and interest in the subject.Adler's plan, approved by the Mayor's office, was to assemble a small project team, prepare a project overview (Annex #1, "Project Description"), conduct a round of confidential interviews to understand the history and current views of geothermal health issues, and then bring together a sustained and science-focused "Study Group" engaged in joint and mutual fact finding. Information on the project and the deliberations would be available at a website and meetings would be held in the Puna District. Interested members of the public would be able to offer their ideas and views at the end of each meeting. Adler's contract was for $50,000 inclusive of all expenses related to the project.
It is a large document that is full of valuable information, including links to past assessments and environmental studies that are often referenced in geothermal discussion but can be hard to locate online.
The executive summary gives a concise overview of the findings and recommendations:
Findings

1. Puna's Public Health Profile Is Unclear.
Puna's overall public health appears worse than the County and State. We do not have an accurate and readily available profile of disease and illness patterns for the past and current populations of Puna. Usable and pertinent public health information should normally include statistics on mortality (heart disease, malignant neoplasms, cerebrovascular disease, respiratory illness, unintentional accidents, etc.); actual causes of death (accidents, tobacco, alcohol, microbial agents, toxic agents, etc.); actual disabilities (arthritis, diabetes, chronic back problems, impaired vision, etc.); and detailed mortality and morbidity information by age, ethnicity, and length of time in Puna. An accurate health picture would normally also include clinic and hospital admissions, numbers of days of sickness, and other statistical snapshots that could provide a better basis for understanding geothermal health issues.
2. Health Studies Are Needed.
Events during the HGP-A era and during the 1991 blowout provided exposures that studies conducted outside of Puna have associated with adverse health effects. The Study Group believes there were health effects from geothermal development during this period of time. Based on Goddard & Goddard's modeling analysis of emission concentrations of the 1991 blow-out as well as subsequent volunteered reports and medical diagnoses of symptoms, the Study Group concludes there is evidence that there were health effects from the exposures early in the development of geothermal (before 1993). The full extent and severity of those effects has not been documented. After 1993, the Study Group is uncertain about whether there have been health effects and what the extent and severity of those effects are, if any, due in part to poor identification and documentation in health studies. No study has clearly identified the scope of the effects nor has any study established clear causation. Since 1991, no health study has identified any health effects that can be attributed to geothermal development or operations, but monitoring of exposures has been inadequate.
3. Geothermal Operations Carry Health Risks
Risks from geothermal energy production in Puna exist. The actual extent and impacts of those risks remains unresolved. What is known is that hazardous chemicals come up and go back down in PGV's closed system. Some fluids inevitably escape to air, water, and/or at ground level. Harmful effects can only be understood through better monitoring and reliable health data.
Recommendations
1. Undertake a Comprehensive Health Effects Study.
Using robust scientific methodologies, the County should commission a comparison group study to test four hypotheses. First, central nervous system ("CNS") degradation of the sample population will likely be more pronounced as a function of highest peak exposure to H2S. Other symptoms, particularly respiratory effects, may be more pronounced as a function of length and extent of exposure. Second, CNS and other negative health effects from exposure to emissions including H2S will be greater in areas of highest exposures. Such exposures will be a function of meteorological conditions and emission rates over plant history. Third, heavy metal and other chemical contamination from geothermal energy production sources may have spread into the soil and into water catchments and affected drinking water supplies. This spread of heavy metals could cause health effects to residents in proximity to geothermal plants. Fourth, as a consequence of noise and vibration, residents who have (a) lived closest to geothermal project development, (b) directly experienced geothermal gas releases, (c) have been evacuated, or (d) have experienced the highest noise levels may be more likely to show anxiety disorder symptoms.
2. Conduct a Meta-Analysis of H2S.
A complete and up-to-date examination of all relevant information on the H2S topics covered by this report has not been performed. The Study Group believes that one of the best methods to accomplish a robust informative review is a "meta-analysis." It is recommended that an RFP be established and funded to perform a meta-analysis of our primary health concern: the effects of H2S on CNS and respiratory function.
3. Establish a Better Monitoring System.
Although responsibility for the monitoring and reporting of exposures is decentralized across different agencies and organizations, current monitoring systems and protocols are inadequate and must be substantially improved. County of Hawai'i is the layer of government closest to the day-to-day lives of its citizens and the health and welfare of its citizens must take precedence over other geothermal interests it may have. County of Hawai'i should take the lead in ensuring that reliable data and information is collected, reported, and retained so that exposures can be understood both when upset conditions occur, and cumulatively over time.
4. Evaluate Geothermal Effects on Drinking Water and the Near-Shore Ocean Environment.
Geothermal energy production involves drilling through various geological layers, creating a risk of water contamination downstream of the reinjection site. As a separate initiative, the County should commission USGS to study the consequence of brine re-injection possibly using pentane as a marker. Ocean contamination and possible near-shore die off should also be studied. Using robust scientific methodologies, the County should test the following hypotheses. First, brine that is deeply re-injected into the lower East Rift geothermal zone could be migrating vertically into surface water flows, causing contamination of these surface waters and the ocean shore brackish basal ground waters. Second, contamination of the ocean shore waters caused by geothermal development could be affecting coastal and near-shore plant and animal life. Third, pentane or possibly other injectate components can serve as markers for injection fluid migration.
5. Assure the Credibility, Reliability, and Independence of Experts.
The Study Group recommends a two-tier approach that (1) puts the review and evaluation of proposals in the hands of disinterested scientists and (2) makes the final selection the responsibility of informed, unbiased local citizens and County personnel. This recommendation responds to the continued wariness by some citizens that their fears of health harms will not be influential while at the same time recognizing that the County must be convinced that an open, objective, and scientifically valid selection will result.
6. Ensure There Is No Old or Ongoing Contamination From HGP-A.
The Study Group recommends that the County use the full strength of its influence with state and federal agencies and private landowners to ensure the old HGP-A site is free of contaminants. Soils and water channels in the area of the five HGP-A brine pits should be studied with vertical samples deep enough to go beyond the fill used to cover old pits. Any survey should examine whether and to what extent contamination occurred and what re-mediations, if any, may be required.
7. Strengthen Public Communications and Alerts.
Since geothermal energy production involves health and safety risks, announcements, messages, and emergency declarations must reach the public in a timely manner, especially those in close proximity to geothermal operations. The more severe the condition, the more urgent the communication required. We urge the County to install and update its notification procedures and to consider a variety of mechanisms to provide alerts to the public when upset conditions occur.
The report carries some caveats, mainly in relation to what happens next. The report is "summative and not exhaustive of all issues, facts, and controversies surrounding geothermal health matters," it reads. "In fact, the great preponderance of the group's deliberations focused on the health effects of H2S and secondarily on metals." But it also says, "Because a specific issue, problem, or concern is not listed, readers should not assume there is no problem."
Even though the report recommends a comprehensive health study be undertaken, it stops short of recommending who should do it. "Naming particular scientists is beyond the mandate of this Study Group," the report states. "Instead, and in keeping with the mandate, the Group has sought to articulate the hypotheses and general methodologies that the County should use as it pursues scientific and technical work in matters related to geothermal health along with how the qualifications of prospective experts should be solicited, vetted and selected. Expressions of interest or responses to a request for a proposal should be open to all qualified researchers."
The group also makes a statement on geothermal policy, again with an even-hand.
6. Geothermal Policy
While Study Group members hold different political views regarding geothermal energy development and fully understand that assessments like this will probably be used in larger policy conversations, the Group takes no collective position on those debates other than an overriding belief that there must be useful and more definitive health studies. Our focus is only on health. In the words of one Study Group member: "We are not anti-geothermal, but any geothermal enterprise must be safe for the community, for plant personnel, for the county, and for investors."
The report also acknowledges that there are points of divergence among study group members. "This report reflects areas of agreement," reads the document. "Where members have different views, dissents from the majority, or perspectives that go beyond this project's scope, room has been made for their expressions at Annex #4."
Those statements were not included in the draft report.
The report gave the names, places of residence and experience of each study group member.
Jay Bondesen (Puna)
Retired builder. Background experience with materials safety data and hazard. Member and President of the Leilani Estates Board of Directors.
Alfred Dettweiler (Puna)
Past President of the Leilani Community Association and a long-time resident of Puna. Has extensive background in the history of geothermal energy development in Hawai'i and has gathered H2S readings in the community.
Dan Domizo, MPH, PA (Puna)
Clinical Programs Director of the Puna Community Medical Center. Resident of Puna District who brings wide-ranging and in-depth experience with public health matters in Puna.
Edward Fisher, PhD (Kea'au)
Professor of Pharmacology and Toxicology and Associate Dean for Academic Affairs, UH Hilo School of Pharmacy. Has wide-ranging experience in scientific matters and brings special
experience in toxicology.
James Haefner, PhD (Puna)
Professor Emeritus, Department of Biology and Ecology, Utah State University. Has extensive background in the design, validation, and statistical analysis of system models.
LaRee Ann Hiltner, MS (Puna)
Degrees in Civil and Environmental Engineering. Brings experience in industrial hygiene, instrumentation, and calibration.
Robert Petricci (Puna)
Businessman and founder and long-time leader of Puna Pono Alliance. Knowledgeable about geothermal matters generally and, more specifically, the history of geothermal issues in the Puna District.
René Siracusa, MA, ABD (Puna)
One of the founders of the Big Island Rainforest Action Group and President of Malama O Puna. Brings long experience in environmental matters and serves as board president of Puna Community
Medical Center.
A. Jeff Sutton, PhD (Volcano)
Geochemist with the Hawai'i Volcano Observatory. Brings strong background in the chemistry of volcanic gases, the role of gases in eruptive processes, and the effects of volcanic emissions as a volcanic hazard.
Laura Travis, RN (Puna)
Healthcare experience with expertise in medical issues faced by mothers, infants, retirees, and war injured. Training and service in public health.
Thomas Travis, USN (ret) (Puna)
Retired submarine and deputy battle group commander. Brings extensive military and civilian experience in the practical application of analysis and evidentiary standards to complex
problems.
Maile Tuali'i, PhD (Honolulu)
Brings strong background in public health genetics, informatics, and related behavioral and social sciences coupled with Native Hawaiian cultural perspectives.
The report notes that over the course of the study group's work, Dr. Tuali'i and Mr. Domizio were unable to complete their participation with the Study Group due to other obligations.
The group also had input from liasons who provided additional information and responded to technical questions. They were:
Newton Inouye, District Environmental Health Program Chief for the Hawai'i District Health Office. Responsible for planning and directing the work of the Vector Control and Sanitation Units of the Hawai'i District Health Office.
Michael L. Kaleikini, Senior Director for Hawaiian Affairs for Puna Geothermal Venture – Ormat Technologies Inc. Responsible for project development, community affairs, and policy issues in Hawai'i.
Jeffery Melrose, Special Assistant to Mayor Kenoi, County of Hawai'i. "Point of contact" and project liaison to County of Hawai'i.
Jon-Pierre Michaud, PhD, MS, Associate Professor of Chemistry at UH Hilo and a former faculty member in the Manoa School of Public Health. His PhD is in Toxicology with a focus on environmental toxicant interactions. He also holds an MS in Industrial Hygiene.
DeWofle Miller, MS, MPH, PhD, professor of epidemiology, microbiology, public health, and tropical medicine at the John A Burns School of Medicine, University of Hawai'i. In addition to being a Fellow in the American College of Epidemiology, he has been a Fulbright scholar and has published epidemiological research on both chronic and infectious diseases.
The report goes on to lay out the history of the geothermal industry in Puna, and then most of the document gets into the health issues. It goes into detail about how the content of any Requests For Proposals for further study should be derived – through a Selection Committee, in the case of analysis of groundwater contamination by HPG-A, air exposure monitoring, and analysis of H2S health effects.
From page 65 to 106 the report provides bibliographical resources, and then concludes with a "Preliminary Dispersion Modeling Of PGV Hydrogen Sulfide Releases into the Atmosphere" as provided by Christopher Biltoft of Adiabat Meteorological Services (Annex-6). His findings, summarized in the executive summary:
Model results show that releases from PGV into the surrounding community could exceed the State of Hawaii hydrogen sulfide air quality standard (0.025 parts per million, ppm), and occasionally exceed the State of Hawaii "Warning Threshold" which may require evacuations. Some releases also could exceed the Environmental Protection Agency (EPA) Acute Exposure Guideline Level (no health effects) at considerable distances from the source. However, these modeling results do not exceed the EPA serious long-term health effects threshold. These preliminary screening model results are advisory only, but underscore the need at the PGV site for a measurements and modeling program using modern instruments and atmospheric dispersion models.
Big Island Video News filmed one of the meetings held near Pahoa earlier this year.
Feb. 2013 – Geothermal Public Health Assessment Study Group meets
The draft report is being issued at an opportune time for public discussion. Today, a Save Pohoiki festival will be held at Akebono theater, featuring guest speakers and music, part of a the public's stand against the further development of geothermal in the area.