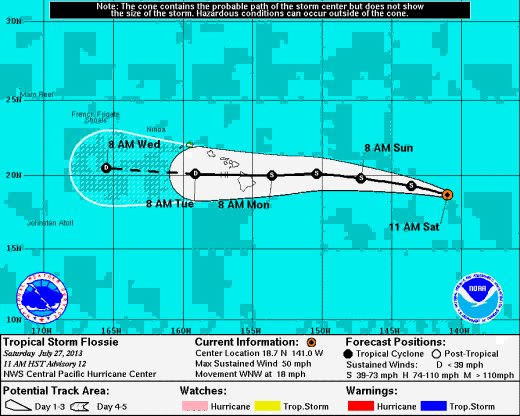 HILO, Hawaii – Tropical Storm Flossie continues to weaken as it heads towards Hawaii. The storm is 920 miles east of Hilo and moving west-northwest at 18 miles per hour. Maximum sustained winds have fallen. They are now being measured at 50 miles per hour.
According to the most recent discussion posted at 11 a.m. by the National Weather Service:
National Weather Service

"Satellite imagery indicates that Flossie continues to slowly weaken. Cloud tops continue to warm and become less organized near the center. Southwesterly shear just ahead of Flossie appears to be the greatest factor in its weakening trend. Marginal SSTS as well as some dry air intrusion also appears to be a factor in its weakening. These factors should continue to play a roll in a gradual weakening of Flossie over the next few days. The CPHC forecast is basically an update of the previous forecast.

The initial motion estimate is 285 degrees at 18 mph which has changed little over the past several hours. Flossie is expected to slow down slightly on Sunday and make a gradually turn toward the west due to a retrograding ridge north of the Hawaiian Islands. Almost all of the models show Flossie near the big island in 60-72 hours. The official forecast has been adjusted slightly southward from the previous track but is essentially unchanged."
There are no coastal watches or warnings in effect. The next advisory from the NWS is expected around 5 p.m. HST.