HILO, Hawaii – Jeremy Todd Rios, a 32 year od Hilo man who was wanted in connection with a reported carjacking, has been taken into police custody.
Police report that Rios walked out of a pasture area onto Mauna Kea Access Road at 6:30 p.m. on Tuesday, where a police officer making checks in the area arrested him.
Police were in pursuit of Rios' since 7 a.m. after a series of alleged crimes led authorities to Saddle Road, where the suspect reportedly ditched a stolen car and fled into the brush.
Police set up a roadblock at the entrance to Mauna Kea Access Road and searched for Rios with help from a county helicopter crew.
Hawaii County Police issued a series of alerts Tuesday morning using the Nixle messaging system, saying they were on the look-out for Rios, who "may be armed and dangerous". The alerts detailed a reckless series of crimes and carjackings in Hilo.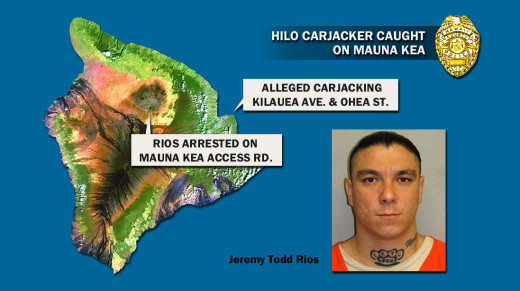 Rios was arrested and was being taken to the Hilo Police cellblock, where he will be held while detectives from the Area I Criminal Investigations Section continue the investigation.
The Mauna Kea Access Road has been reopened to traffic. The Police Department said it would like to thank the public for its patience while the road was closed during the search.