KAILUA-KONA, Hawaii – Day One of the 54th Annual Hawaiian International Billfish Tournament is in the books, and Game Fishing Club of South Australia has taken the lead.
The team tallied 615 points thanks to this 386-pound Pacific blue marlin – the largest catch of the day. It took the team only 12 minutes of fighting to boat the beast aboard the Maggie Joe. The fish was the biggest caught by angler Rolf Czabayski.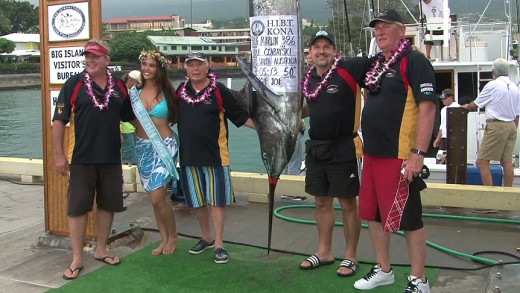 Tournament organizers say to preserve the thrill of big game fishing for future generations, these teams generally do not boat Pacific blue marlin under 300 pounds. Teams are awarded points for their catch and these billfish are tagged and released.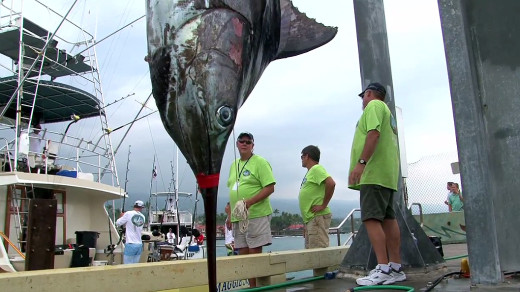 Four teams are tied with 600 points heading into Tuesday. That includes the Laguna Nigel Billfish Club, who caught this 150 pound yellow fin tuna. Not an easy fight, according to angler Bob Kurz.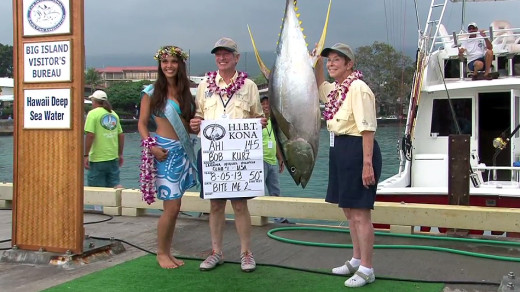 The other teams at 600 points: Hilton Grand Vacations Fishing Club Ohana, Le Anglers Club, and Old South Marlin Club East Coast 1.
By all accounts, it was a great start for the tournament. It took the Beijing Fishing Club a mere 16 minutes from the start of the fishing day to radio in their first hook-up. The pace continued all day.
Here is the official event recap from Brandon Sakamoto and HIBT:
HIBT 2013 – DAY ONE
The event is truly international. There are six teams from New Zealand, five teams from Japan, four teams each from Australia and China, and teams from New Caledonia, Papua New Guinea, Singapore, South Africa and Vanuatu. There are also 14 teams from across the United States.