HILO, Hawaii – Hawaii County Police arrested a 25-year-old Hilo woman at the Hilo airport Tuesday on multiple theft and forgery charges.
Police report: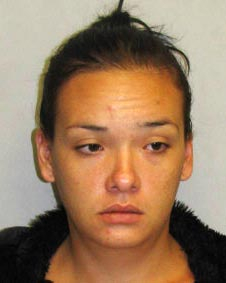 Suzy Cho Chun (right) of Keaʻau was being investigated in connection with 28 forged checks from her former place of business. The checks, totaling more than $9,000, were cashed at various financial institutions around the island.Police investigators received an anonymous tip that Chun, who was off island, would be returning to Hawaiʻi Island via the Hilo airport on Tuesday. She was arrested there at 2 p.m.

Chun was charged the same day with 29 counts of theft and 28 counts of forgery. Her bail was set at $89,750. She was also arrested on two counts of revocation of supervised release based on no-bail bench warrants issued by District Court.

She is being held at Hawaiʻi Community Correctional Center pending a preliminary hearing in District Court scheduled for Thursday afternoon (August 8).