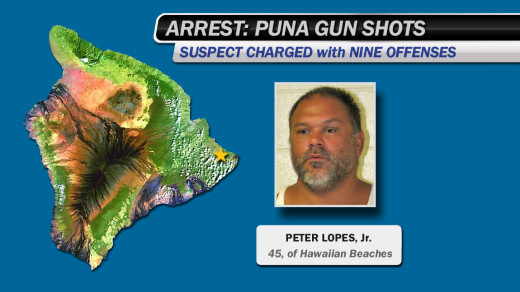 HAWAIIAN BEACHES, Hawaii – One of two Puna men arrested in connection with shots being fired in the Hawaiian Beaches subdivision has been charged with nine offenses.
On Thursday, police reported that the father and son duo of 63-year-old Peter Lopes and 45-year-old Peter Lopes Jr. were arrested following reports of shots being fired on Wednesday night on Nenue Street.
Police say no one was injured in the shooting.
On Friday, police had more information after announcing the younger Lopes was being charged:
Peter Lopes Jr., 45, of Hawaiian Beaches was charged at 3:15 p.m. Friday with first-degree reckless endangering, abuse of a family/household member, three counts of ownership prohibited, three counts of place to keep and leaving the scene of an accident. His bail was set at $123,000. He is being held at the Hilo police cellblock pending his initial court appearance scheduled for Monday.

Officers conducted a search warrant on his home Thursday and recovered two firearms with ammunition. Because Lopes is a convicted felon, it is illegal for him to possess weapons or ammunition.

Police determined that Lopes assaulted a 42-year-old woman on Wednesday (August 21) during a domestic argument in Hawaiian Paradise Park. After leaving the house, he collided with another vehicle, left the scene of the accident and then went to a home in Hawaiian Beaches, where he discharged a firearm.
Police say the elder Lopes was released pending further investigation.