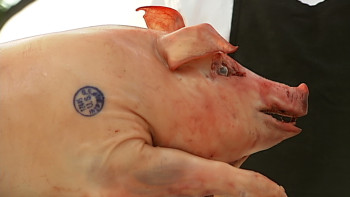 KOHALA COAST, Hawaii – The Cochon 555 culinary tour landed on Hawaii Island this weekend at the Mauna Kea Beach Hotel.
Now in its 5th year, the tour was founded by Brady Lowe as a traveling tasting event created to promote the sustainable farming of heritage breed pigs.
"Quick orientation," said Lowe during the event, on stage with a microphone before a hungry crowd. "We have five chefs up here, a thousand pounds of pig, about three to four dishes per chef."
Five heritage pigs, five chefs, and five winemakers. Usually the five chefs go head to head in a competition, but this was an only exhibition. The event just hit its five year mark. Chefs say the event has given a "resurgence" to the small pig farmer.
Head chef for legendary hotel pivotal in catching Cochon
The Mauna Kea Beach Hotel's Executive Chef, Peter Pahk, played a big role in bringing the tasty tour to the Big Island.
"This happened kind of serendipitously," said Pahk. "I called (Brady) in April, asked him if he could fit Mauna Kea Beach Hotel into his schedule, and he did. This is the end of the tour, so its non-competitive. Its just a fun event celebrating heritage and feral pigs."
Five chef teams came to the Kohala Coast for the event on Saturday. Besides chef Pahk, there was Bistro Molokini's Chef Michael Young, Pili Hawaii's Chef Mark Noguchi, Town & Uptown Events' Chef Ed Kenney, and Celebrity Chef Lee Anne Wong.
"I was with Brady in Aspen last year for Cochon," recalled Wong, "I said why don't you come to Hawaii? Its great. He's like 'oh, Peter did the first Cochon with me.' And I was like, 'oh, perfect!'. And so, over the past year we've worked on getting Cochon here to Hawaii."
The tour was a learning experience for the visiting chefs, as Pahk explained.
"What is cool for Brady," said Pahk, "is that he learned so much about an insular and fragile environmental place that the Hawaiian islands are. Its a whole different creature. He learned how hard it is to do heritage pigs, how hard it is for farmers to deal with feral pigs and make it work. "
"We dont have a huge variety of heritage breeds here," added Wong. "But Hawaii as a state, as we know: everybody loves pork. So, its about starting the conversation. Its about really talking about what is available here. How we can raise the animals responsibly. How we can create a demand for whole animal butchery versus importing parts of pigs from the mainland."
For serious pig lovers
There was plenty for the pork enthusiast to enjoy. Food aficionados could even witness the butchering of an entire Hereford.
"We have a Hereford pig, which is a very rare heritage breed pig," said Brady. "You don't know how lucky we are to have it here tonight. Daphne and Ron (Ahualoa Hog Farm) are here. Along with chef Devin Lowder who did the cured meats. Its a pop up butcher shop, so everything on that pig is for sale to take home. We'll make sure its cold, you can come pick it up before you leave. Hundred percent of the proceeds goes to the culinary school. "
Chef Lowder of When Pigs Fly Charcuterie went to work on the swine. A quick few cuts and the pig was without a head. "If anyone is interested in the head, it makes a wonderful soup. You can make a great patte out of it. You can make head cheese."
What is head cheese? Lowder explained, "It's just the whole head cooked really, really slowly. Then you take everything off of it. Cook the juice down a little bit more. Mix it all up with the juice. And pack it in a pan. Let it sit in a refrigerator. Thats what head cheese is.
"Most people… they dont like it… But some of the best part of that pig is in that head."
"Oahu was never meant to hold a million five people," Wong reflected. "Do we import more, do we continue to ship in more food from the mainland? Or do we begin to create an industry of agriculture and sustainability here. Its very much a possibility."
Hawaii's feral pigs: a love/hate relationship
The tour may be coming at a good time. Pigs on Hawaii Island are in need of some good PR.
"There's a lot of disheartened farmers, not only on the Big Island but on Oahu, too," said chef Pahk. "There's not a whole lot of market for the local, heritage pig. What Brady wants to do with this is bring awareness to the feral pig.
"The feral pig is a total nuisance to everybody concerned. Its a nuisance to the farmer , a nuisance to the resident. The pigs just tear up everything in site. What the islanders have been doing is getting the feral pigs, selling them to Kulana Foods or other ranchers, and sort of 'domesticating them', raising them, slaughtering them, and turning it into a feral 'wild' pig item on the Big Island."
Some farmers are passionate about their pigs… like well known farmer Lloyd Case. "the wild pig is the third smartest animal in the world," Case told a room of culinary students during the 2011 Taste of the Hawaiian Range event. "That's why many of the Hawaiian chiefs would eat the brain of the pig thinking that they would get the knowledge from the animal."
The situation goes deeper… the feral pigs may be a problem to some, but to others – in particular Hawaii's hunting community – the pigs are a valued resource.
Hunters bristle at state mandates to eradicate pigs from watersheds. Pigs are ungulates, like sheep, goats and deer, and therefore the Department of Land and Natural Resources plans to eliminate as many of them as possible from valued watersheds.
Its been a contentious issue at public meetings for years.
"You're talking about taking food off peoples dinner tables," Wayne Matthews scolded DLNR representatives during a public hearing on new administrative rules in Hilo this past March. "Maybe I should come to your house and take your food off your dinner table tonight."
Pigs have been on these islands for a long time now, which gives them cultural importance as well.
"I have geneology and records that prove that my ancestors used the pua'a (pig) as ceremony for sacrifices for their Gods," said Terri Napeahi – a part of the Pele Defense Fund – at the same March DLNR meeting. "And you come over here and call it an ungulate? And call it destruction to our forests?"
Can high publicity events like Cochon Island save the maligned creature?
"Next year," said Pahk, looking ahead, "Brady has envisioned a feral, wild hog sausage throw down. The most sustainable way to do feral pigs is to grind it. Just get the pig, slaughter it, and grind it from head to tail and make beautiful sausage."
"What it does is, number one, it takes care of the whole pig. it takes care of the farmer because he doesn't have to worry about selling parts. It takes care of the chef because he doesn't have to worry about selling parts. Start with the pork chop, you know, end up with the loin, and then end up with the ham. And its just difficult."
"We need to stop eating commercial pork," Wong said bluntly. "We need to consider whole animal butchering and cooking which is the more responsible way of eating. "