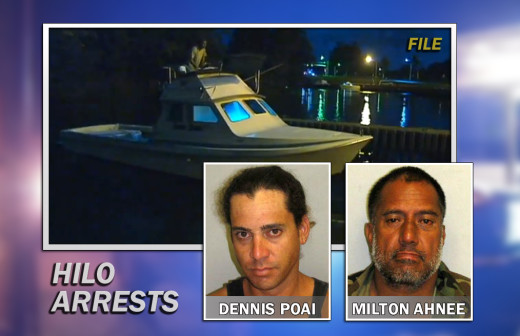 HILO, Hawaii – Two men were arrested on Friday after police received a midnight report of suspicious men on a boat at Wailoa Small Boat Harbor.
Officers responded to the 12:10 a.m. call and learned that the men had removed items from the boat and fled in a pickup truck. A few minutes later, police located the truck nearby and saw eight fishing poles with reels in the truck's bed. Police say the poles turned out to be stolen.
Police say they also recovered nearly a gram of a crystalline substance, paraphernalia associated with the use of crystal meth, a rifle and ammunition.
Police arrested 47-year-old Milton Ahnee and 36-year-old Dennis Poai, both from Hilo. The two men were charged on Friday evening.
From the Hawaii County Police:
At 9:40 p.m. Friday, detectives charged Ahnee with burglary and theft. His bail was set at $20,000. Poai was charged with burglary, theft, promoting a dangerous drug, possessing drug paraphernalia and four firearms offenses. His bail was set at $121,000.