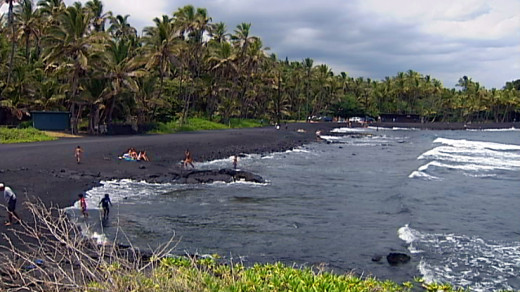 PUNALUU BEACH, Hawaii – A ten to twelve foot tiger shark is believed to be the culprit in a Wednesday morning shark attack near the popular Punalu'u black sand beach in Ka'u on Hawaii Island.
The Hawaii County Police say a 29-year-old Captain Cook man reported being bitten by a shark while body boarding in the area of Nīnole Bay, which is just south of Punaluʻu Beach Park.
From a police media release:
Officers contacted the victim at Kaʻū Hospital, where he was being treated for his non-life-threatening injuries. The victim reported being approximately 20 yards off shore in 8 feet of water when the shark attack occurred. He was body boarding with two friends, who identified the shark as being a Tiger shark 10 -12 feet long.
Police say the victim is expected to be released from the hospital after treatment. In the meantime, the beach has been closed and is expected to remain closed until noon Friday. (see update below)
This is likely to be the 14th reported shark incident statewide this year. Most of the attacks have been on Maui (8). There have been two in Kona and one in Puna. According the Hawaii Department of Land and Natural Resources, the state has averaged about four unprovoked shark incidents per year over the last 20 years, but adds that the numbers per individual year are highly variable. There were no reported incidents in 1998, and just one in 2008. In 2012, DLNR says the 10 incidents reported were at the time unprecedented.
"We are not sure why these bites are occurring more frequently than normal, especially around Maui," said DLNR Chairperson William J. Aila in a media release that was issued after a kayaker was fatally bitten by a shark in waters off Makena State Recreation Area on Maui. "It is our hope and expectation that numbers of incidents will return to a more normal range in the near future."
UPDATE (3:11 p.m.) According to the state DLNR, County lifeguards have posted shark warning signs at Punaluu beach park, which will remain closed the rest of today. The fire department flew a helicopter over the area at 10 a.m. and will do so again Thursday morning. DLNR says If there is no further sighting of sharks the park will reopen at noon Thursday..