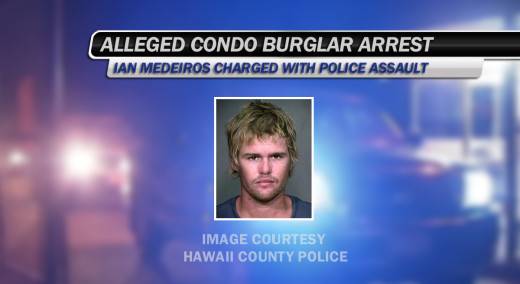 KAILUA-KONA, Hawaii – A 22-year-old man has been arrested and charged in connection with the alleged burglary of a condo on Kuakini Highway, as well as for a subsequent, reported assault on a police officer.
Ian Medeiros – arrested on Monday – was charged on Tuesday with second-degree theft, resisting arrest, first-degree assault of a police officer, first-degree terroristic threatening, promoting a dangerous drug and possessing drug paraphernalia.
Police described the events leading up to the arrest in a media release issued on December 24.
At 7:16 a.m. Monday, police received a report of a burglary at a condo on the 75-6000 block of Kuakini Highway in Kailua-Kona. Sometime overnight, an unknown person had entered a unit in the condo through an unlocked door and stolen several items—including a jewelry box, a ukulele and cellular telephones—while the residents were asleep.

At 9:25 a.m. Monday, investigating officers were called back to the same condo complex in response to a report of a man sleeping behind a garage.

An officer made contact with the man and noticed items in his possession matching the description of stolen items from the burglary. While the officer attempted to place the suspect under arrest, the suspect resisted and struck the officer in the head, causing a laceration and swelling.

A second officer arrived at the scene and assisted the first officer in subduing the suspect and placing him under arrest. The suspect was identified as 22-year-old Ian Medeiros, who has no permanent address but frequents the Kailua-Kona area.

Fire Department personnel treated the injured officer at the scene for his minor injuries.

Medeiros was taken to the Kona police cellblock while detectives from the Area II Criminal Investigations Section investigate possible charges of first-degree burglary, second-degree theft, resisting arrest, assaulting a police officer and terroristic threatening.
Police say Medeiros' bail was set at $10,500. His initial court appearance was scheduled for Thursday (December 26).