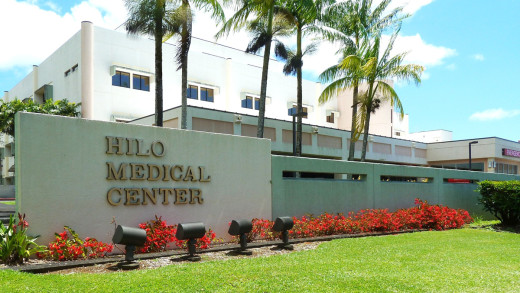 HILO, Hawaii – Hilo Medical Center is getting $1,771,000 from the state of Hawaii, part of a $21.7 million release approved by the governor for capital improvement projects that be shared amongst state hospital facilities and services statewide.
Hilo's money will go towards "planning and equipment to replace dietary equipment, which is more than 25 years old," according to a state media release in which Governor Neil Abercrombie was quoted:
| | |
| --- | --- |
| Gov. Neil Abercrombie, Dec. 26, 2013 | "The majority of these CIP funds will go toward modernizing medical record information systems at Hawaii Health Systems Corporation facilities. Funds will also facilitate other improvements and replace outdated equipment statewide, improving access to quality health care for the people of Hawaii." |
The alloted funds for the other statewide projects, identified by members of the state Legislature, were detailed in the release:
$14,321,000 – Information/Electronic Medical Record (EMR) System, statewide – Funds for system equipment that will support Acute, Long-Term Care, Ambulatory and Critical Access hospitals and will automate clinical and financial processes; allow for a substantial degree of standardization across regions; and be compliant with the Health Information Technology for Economic and Clinical Health (HITECH) Act and privacy and confidentiality mandates

$4,750,000 – Maui Memorial Medical Center, Maui – Design, construction and equipment for renovations to the Imaging, Laboratory and Oncology Departments (The Imaging and Laboratory Departments are more than 30 years old, and some of the equipment are antiquated and past their useful life. The Oncology Department is more than 20 years old and faces daily overcrowding issues. The appropriation will expand and renovate patient care areas for the Oncology Department. The medical center will remodel the Imaging department's rooms, officers, hallways and waiting area to meet new industry standards and to accommodate new imaging equipment to maintain patient care.)

$500,000 – Kula Hospital, Maui – Design, construction and equipment for repairs to the patient rooms, support areas and exteriors of the hospital building, which is more than 75 years old

$200,000 – Lanai Community Hospital, Lanai – Design, construction and equipment for repairs to patient rooms, kitchen and support areas of the hospital, which is more than 40 years old

$225,000 – Leahi Hospital, Oahu – Design and construction to remove an underground storage tank, which is no longer in use and needs to be removed to comply with the EPA regulatory requirements.