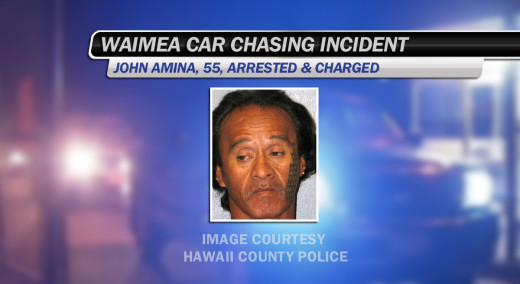 WAIMEA, Hawaii – A 55-year-old Waimea man has been charged with eight offenses in connection with a harassment by stalking incident last week.
Hawaii County Police say John Amina was involved in a car chase through Waimea on December 17th and described the events in a media release issued on Christmas Eve.
On December 17, police received several calls reporting that a green sedan was being chased through Waimea town by a green Dodge van. Investigation revealed that the driver of the van attempted to pull over the new boyfriend of his ex-girlfriend to instigate a fight.

The van attempted to block the car and collided with it on several occasions until the victim was able to make his way to the parking lot of the Waimea police station. At that time, the suspect fled in the van.

On Monday (December 23), South Kohala patrol officers, who were conducting a seat belt enforcement operation in Waimea, stopped the suspect, John Amina, and arrested him on suspicion of five counts of first-degree terroristic threatening, one count each of criminal property damage, reckless driving, accident involving a vehicle and property, harassment by stalking, driving without a license, promoting a detrimental drug, two counts each of promoting a dangerous drug and possessing drug paraphernalia.
Police issued another media release today, December 26, describing the charges:
Tuesday afternoon (December 24), John Amina was charged with first-degree criminal property damage, first-degree terroristic threatening, harassment by stalking, second-degree reckless endangering, reckless driving, promoting a dangerous drug, possessing drug paraphernalia and driving without a license.

He was released from the Kona police cellblock after posting $14,750 bail on Wednesday (December 25).