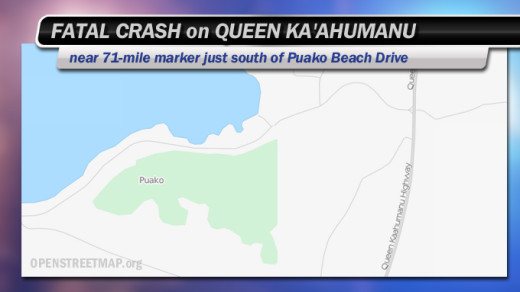 PUAKO, Hawaii – There was fatal accident on Queen Kaʻahumanu Highway on Wednesday, near the 71-mile marker just South of Puako Beach Drive.
A 52-year-old man driving a 1997 Ford F-250 pickup truck was traveling south at 11:25 a.m. when he reportedly crossed the centerline and struck a 2013 Dodge Dart traveling in the opposite direction. The driver, who was the sole occupant of the truck, was taken to North Hawaiʻi Community Hospital, where he was pronounced dead.
UPDATE (Feb. 6, 2014) – The driver who was killed in the crash has been identified as Matthew B. Lee of Kailua-Kona.
Neither the driver of the other vehicle – said to be 62-year-old man visiting from Canada – nor his three passengers were injured.
The collision forced the closure of part of the highway between Puakō Beach Drive and the entrance to the Mauna Lani Resort while officers investigated. At 1:15 p.m. one lane of traffic was reopened on the highway, but the other lane remained closed for some time.
UPDATE (Feb. 6, 2014) – Police do not believe that alcohol or speed contributed to this collision. The Traffic Enforcement Unit has initiated a negligent homicide investigation and has ordered an autopsy to determine the exact cause of death. Police ask anyone who witnessed the crash to call Officer Christopher Kapua-Allison at 326-4646, ext. 229.
This is the fourth fatality this year compared with seven at this time last year.